Map of Bosporus Strait - World Straits, Bosporus Map, Location
Bosporus Strait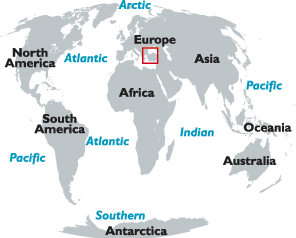 The Bosporus Strait (or Bosphorus) connects the Black Sea to the Sea of Marmara. It also separates Asian Turkey from European Turkey (Trace), thus it separates the two continents.
Bordered on both sides by the massive city of Istanbul, the strait is one of the planet's most strategic waterways.
This body of water serves as a primary highway for the transport of energy to Europe from Russia and western Asia. In 2005 over 55,000 ships, including almost 6,000 oil tankers passed through it, most carrying Russian oil.
Crossed by two large suspension bridges, the strait is just over 2 miles across at its widest point; about 32km (20 miles) in length, and a measured 30-120m (100-395ft) deep.
This page was last updated on September 3, 2020.