GREEN BAY

The thriving city of Green Bay, Wisconsin sits on the bay of the same name, a sub-basin of Lake Michigan located at the mouth of the Fox River. The upper peninsula of the state of
Michigan
sits directly to the north of the city.
The oldest city in
Wisconsin
, the Green Bay area is blessed with natural resources and a large sheltered harbor. Paper, shipping and agricultural industries have long been the largest contributors to the local economy.
Downtown Green Bay is rich with an eclectic mix of restaurants, museums, arts and entertainment venues. The city has a zoo, botanical gardens and wildlife sanctuaries nearby.
The surrounding
Brown County
is home to the Oneida Nation, who runs the Oneida Bingo & Casino in the region, offering blackjack, high stakes bingo and slots.
Sports are big in this town with the Green Bay Packers ruling supreme. Fans are known as 'Cheese heads' and famous for their huge yellow cheese wedge hats. The only fan-owned franchise in football and with the oldest team name in the sport, Green Bay is proud of their 12-time NFL champion Packers.
ADDITIONAL WISCONSIN CITY PAGES:
Established in 1634, Green Bay is Wisconsin's oldest city, and the 13th oldest permanent settlement in the United States of America.
The city has been called "Toilet Paper Capital of the World". The first 'splinter-free' toilet tissue was invented in Green Bay in the early 1900's and the company Quilted Northern is based here.
The Green Bay Packers are not only based in this town, but also owned by the city of Green Bay.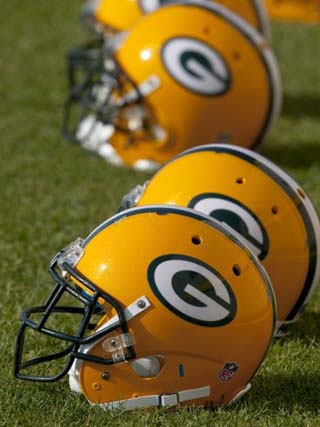 Packers helmets...
by Mike Roemer
Buy This at Allposters.com