Reno Nevada Vacation - Reno Map, Reno Casinos Hotels, Circus Circus Reno – Worldatlas.com
print this map



Nestled at the base of the beautiful Sierra Nevada Mountains, Reno bills itself as "The Biggest Little City in the World". Reno, Nevada is famous for its many casinos, hotels and special events. Reno is a great base for all kinds of outdoor adventures, from climbing the mountains, to camping, fishing and boating in the Truckee Meadows region.


ADDITIONAL NEVADA CITY PAGES:
Reno is considered the Bowling Capital of the world and is home to the National Bowling Stadium. The only one of its kind, the stadium cost $50 million and attracts 100,000 bowlers over six months for national tournaments.
Reno has been known as the "divorce capital of the world," because of its lenient divorce laws. Divorces are awarded in as little as two weeks.
Reno Nevada is the birthplace of the world famous Harrah's hotel chain, the largest brand name in casinos on the planet.


Reno blends big city gaming and entertainment with a strong Western spirit all its own. Beyond its many world-class casinos, the Biggest Little City is also home to wonderful farmers' markets, great restaurants, and the annual Great Reno Balloon Race, a big draw for both tourists and locals every September.

Circus Circus Reno
The casino and resort of Circus Circus Reno is a uniquely family oriented enterprise with very affordable rates. Guests enjoy a Midway of carnival games and attractions, free circus shows with acrobats and animal acts, and several arcades and restaurants situated about the property.

Circus Circus even has a 'Doggie Hotel' for the furry family members!
Peppermill Reno
The Peppermill Resort Casino Reno is an experience of upscale luxury and pampering for a truly distinctive Reno, Nevada vacation.

The Peppermill is famous for its luxurious accommodations and details such as custom-made mattresses. Its themed two-story penthouses include the Roman Opulence and Safari Suites with 5,000 square feet of extravagant furnishings, custom artwork and loads of luxuries.
Harrah's Reno
Harrah's began in Reno at the base of the Sierra Nevada Mountains. Harrah's Reno is a world-renowned casino inviting tourists from across the seven continents of the world.

Headline entertainment, themed parties, night clubs, 24/7 gaming, and a pampering day spa are all part of this Reno resort experience.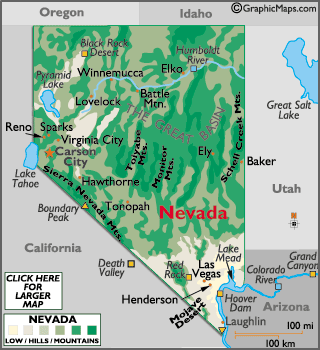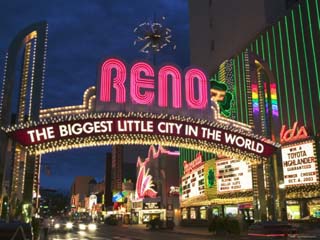 Neon signs on North Virginia Street...
by Walter Bibikow
Buy This at Allposters.com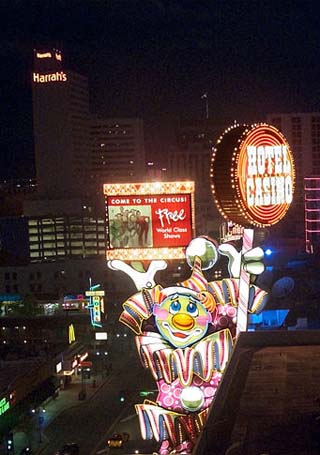 Circus CircusDowntowngal at en.wikipedia.org