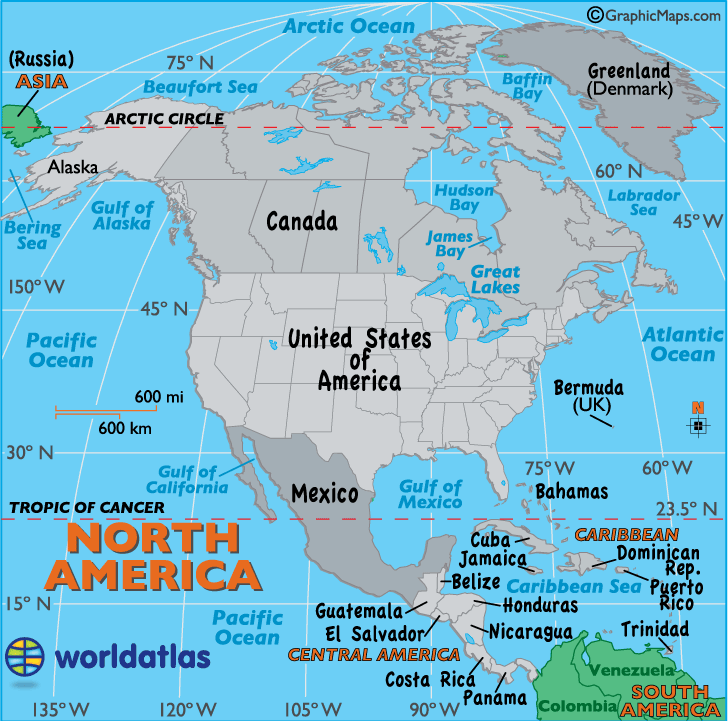 North America Geography
Alaska Range:
Mountains of south-central Alaska that extend from the Alaska Peninsula to the border of the Yukon Territory, Canada. The highest point in North America,
Mt. McKinley
, 20,320 ft. (6,194 m) is located here.
Appalachian Mountains:
The Appalachians, about 1,500 miles in length, extend from central Alabama in the U.S. up through the New England states and the Canadian provinces of New Brunswick, Newfoundland and Quebec.
Significant Appalachian ranges include:
The Cumberland Mts. in Tennessee
The Blue Ridge Mts. in Virginia
The Alleghenies in Pennsylvania
The Catskills Mts. in New York
The Green Mts. in Vermont
The White Mts. of New Hampshire
The highest point is Mt. Mitchell in North Carolina at 6,684 ft (2,037 m)
Brooks Range:
Mountains of northern Alaska. Highest point: Mt. Isto, 9,060 ft. (2,760 m)

Major Rivers