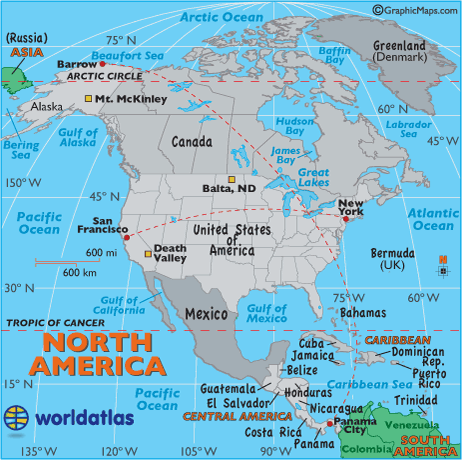 Continent Size: 24,474,000 sq km, 9,449,460 sq miles
It's the third-largest continent in area, following Asia and Africa.
Percent of Earth's Land: 16.5%
Highest Point: Mt McKinley in Alaska, 20,322ft (6,194m)

(see map)

Lowest Point: Death Valley in California, -282 ft (-86m) below sea level.
Geographic Center: The United States Geographical Survey states that the geographic center of North America is "6 miles west of Balta, Pierce County, North Dakota" at approximately 48° 10´ N 100° 10´ W.

(see map)

Horizontal Width: From San Francisco, California, east to New York City, NY: 2,582 miles (4,156 km)

(see map)

Vertical Length: From Barrow, Alaska, directly southeast to Panama City, Panama: 5,347 miles (8,605 km)

(see map)
Note: Lengths and widths are point-to-point, straight-line measurements and will vary some using other map projections.
Largest North American Countries:

(by land area)
Canada: 9,984,670 sq km
United States: 9,826,630 sq km
Mexico: 1,923,040 sq km
Nicaragua: 120,254 sq km
Honduras: 112,090 sq km
Cuba: 110,860 sq km
Guatemala: 108,890 sq km
Panama: 78,200 sq km
Costa Rica: 51,100 sq km
Dominican Republic: 48,730 sq km
All Country's Land Areas

print this map