Azerbaijan Description
Historically Armenia and Azerbaijan have been long associated with Asia and the Middle East. In recent years some sources now consider them to be more closely aligned with Europe based on their modern economic and political trends. I.E. Both are similar to the former CIS country of Georgia, now included as part of Europe. We have moved in that direction as we attempt here to show the modern definitions, but in worldwide geography, there are often many answers (or opinions) to what appears to be a simple question.

Azerbaijan, located on the western edge of the Caspian Sea, sits at the crossroad between East and West. (Asia and Europe)



This valuable geographical position did not go unnoticed, and over the centuries numerous empires fought for control, including those of Alexander the Great, the Romans, the Mongol conqueror Genghis Khan, and Peter the Great of Russia.

Archaeologists believe that the remains of mankind found in Azerbaijan's Azykh Cave, are over one million years old, and the oldest ever found.

In 1030 AD the first Turkic dynasty, Ghaznavids, originated in the area of present-day Azerbaijan, and was followed by the state of Jalayirids in the 1300's.

The state of Jalayirids was ruled by Timur, and was joined by the Shirvanshahs dynasty during the war against Golden Horde Tokhtamysh.

Jalayirids was short lived following the death of Timur, and two new states developed rivaling Shirvanshahs.

In spite of this, Shirvanshahs returned with a great amount of autonomy until 1539.

Following the Shirvanshahs, several more dynasties surfaced, including the Safavids, Afshar, Zand and then the Qajars.

In between the fall of the Zand dynasty and early stages of the Qajars, the self-ruling Khanates surfaced.

The Khanates were steadily involved in numerous battles along trade routes between central and western Asia, and were ultimately assimilated into the Russian Empire in 1813.

Along with Armenia and Georgia, Azerbaijan was integrated into the Transcaucasian SFSR after the collapse of the Russian Empire during World War I.

The TSFSR fell apart by 1918, and Azerbaijan declared their independence, emerging as the Azerbaijan Democratic Republic. In the Muslim world this put them as the first modern parliamentary republic.

In addition, Azerbaijan became the first Muslim nation to declare women and men equal in political rights - long before the United Kingdom and the United States.

Merged into the former Soviet Union in 1936, Azerbaijan continued to thrive, especially throughout World War II where they played a central role in the Soviet Union's energy policy.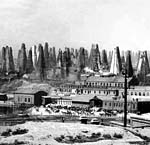 Most notably, Baku became an important petroleum resource, and supplied most of the Soviet Union's oil.

Today, the oil fields in and around Baku still flourish, however, environmentally, the Caspian Sea suffers from related pollution.

At the start of the 1980's civil unrest developed within the Soviet Union, and along with Armenia, Azerbaijan gained independence in 1991.

There was little time for either country to celebrate as regional fighting between both Azerbaijan and Armenia over land control bloodied both countries.

A cease-fire agreement was finally reached in 1994.

Today, this historic land is rich in cultural diversity, with over 70 ethnic groups calling it home.

Tourism is an important factor of Azerbaijan's economy, and the country is brimming with countless natural and cultural spots to explore.
Azerbaijan Photographs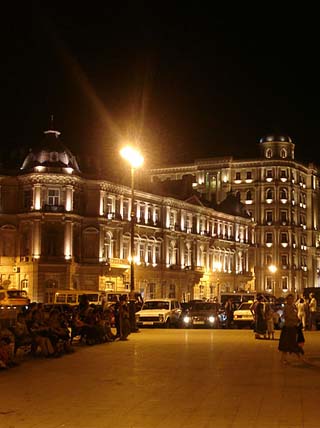 Baku, Azerbaijan
UV
at
en.wikipedia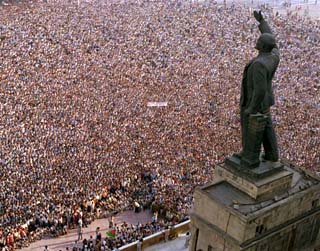 Millions gather at the rebirth of the Azerbaijan Republic
LudwigDE
at
en.wikipedia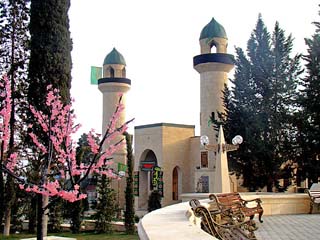 Mosque in Shamkir, Azerbaijan
Alakbaroff
at
en.wikipedia
This page was last modified on September 15, 2015.