Society
The Worst Disasters In US History
The Great Galveston Hurricane of 1900 was the deadliest hurricane in US history, claiming thousands of lives.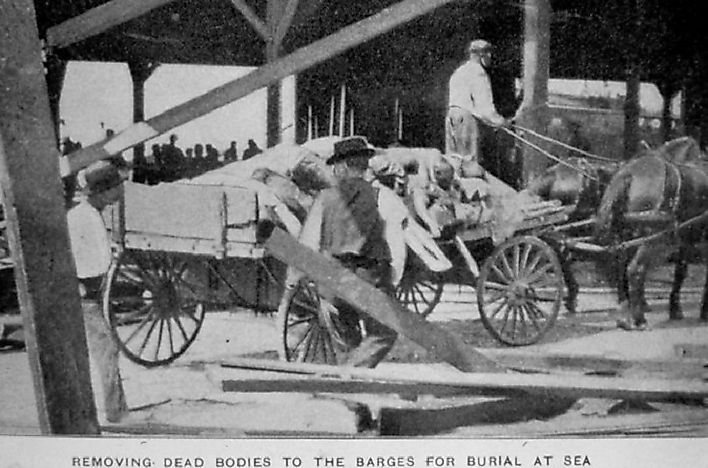 The US has been hit by some of the deadliest disasters in the recent past. These disasters have led to the loss of lives totaling to hundreds of thousand while billions of US dollars were lost in the process. Some of the victims were left with marks as a constant reminder of the events. The disasters have been a result of natural causes such as hurricanes, earthquakes, and flooding, while human actions, including terrorism, have also contributed to these disasters. Some of the worst disasters in the history of the United States are listed below.
1900 Tropical Cyclone in Galveston
Galveston was a jewel of Texas until one of the deadliest natural disasters hit the US. Galveston was a center for cotton trade and Texas's largest city. With the bustling activities and progress that the town was undergoing, the people and the authority became complacent by not building a seawall to protect the city. On September 8, 1900, the city witnessed a high category four hurricane with an estimated wind speed of 145 miles per hour. The storm's origin has never been clear because there was limited observation ability in 1900. The hurricane caused loss of lives estimated between 6,000 and 12,000 making it the deadliest disaster in the history of US. After the storm, the survivors were sheltered in temporary US army tents along the shores. Homes were rebuilt from salvaged material and within weeks the shipping of cotton begun.

1906 San Francisco Earthquake and Fire (Urban Conflagration)
In the spring of 1906, San Francisco resident was woken up by a first earthquake that lasted less than one minute but set devastating chains of fire that lasted four days. The perceived shaking of the earth resulting from the release of energy created seismic waves. The magnitude of the earthquake was estimated at 7.7 to 7.9 and not only broke the gas pipe that sparked the fire but also broke the main water pipes making it difficult for the fire department to put out the fire. The fire left a trail of destruction with 500 city blocks burnt down, 3,000 to 6,000 lives lost and 225,000 people left homeless. An estimated property worth $400 million was lost during the fire.
1928 Tropical Cyclone in Florida
The Okeechobee Hurricane of 1928 is one of the deadliest hurricanes that have ever occurred in Puerto Rico. The hurricane development was first reported on September 6 and with the continued observation the hurricane was quickly developing in different places, including Dakar, Senegal. Residents of Puerto Rico were advised to relocate to safer places, but when the hurricane did not arrive at the estimated time, they returned to their homes. On the evening of September 16, a storm with a sustained wind speed of 160 miles per hour hit Puerto Rico killing over 3,000 people and destroying property worth over $50 million. Due to initial preparation, the cyclone caused minimum damage as compared to the effects of other cyclones.
September 11, 2001 Terrorist Plane Crashes in New York, Pennsylvania, and Washington, D.C.
The September 11 Attacks, also commonly referred to as the 9/11 Attacks, was a series of four highly coordinated attacks by the Al Qaeda group, an Islamic terrorist group. The attack left 2,996 people dead and over 6,000 injured with at least $10 billion worth of property damaged. 19 Al Qaeda terrorists hijacked four passenger planes belonging to United and America airlines and crashed the two into the world trade center tower in New York. As a result, several buildings were affected including World Trade Center. One plane was crashed into Pentagon building while the fourth plane crashed in a field in Shanksville, Pennsylvania.
Turning Back the Tide on Disaster in America
Apart from cyclones, earthquakes, and terrorism, accidents such as shipwrecks, fire tails, heat waves, and military bombings have led to significant loss of life and damage to property. The US government has put into place strategies to counter and prevent such disasters from happening. The US has improved on their surveillance to deal with the threats of terrorism. Seawalls have been built along the shores to control effects of cyclone and storms while the public is continuously informed of any looming dangers especially those living near water bodies.
The Worst Disasters In US History
| Rank | Year | Type | Fatalities | Location |
| --- | --- | --- | --- | --- |
| 1 | 1900 | Tropical cyclone | 6,000 to 12,000 | Texas |
| 2 | 1906 | Earthquake and fire (urban conflagration) | 3,000-6,000 | San Francisco, California |
| 3 | 1928 | Tropical cyclone | 3,000+ | Florida Puerto Rico |
| 4 | 2001 | Terrorism - plane crashes | 2,996 | New York City, Arlington County, Virginia, and Stonycreek Township near Shanksville, Pennsylvania |
| 5 | 1941 | Military strike - bombing | 2,467 | Honolulu, Hawaii |
| 6 | 1889 | Accident - Dam burst | 2,209 | Pennsylvania |
| 7 | 1893 | Tropical cyclone | 2,000 | Louisiana |
| 8 | 2005 | Tropical cyclone | 1,836 | Florida, Louisiana, Mississippi, Alabama, Georgia, Kentucky, and Ohio |
| 9 | 1865 | Accident - Shipwreck | 1,700 | Memphis, Tennessee |
| 10 | 1980 | Heat wave | 1,700 | Central and southern states |
| 11 | 1912 | Accident - Shipwreck | 1,490-1,517 | Near Newfoundland and Nova Scotia, Canada. |
| 12 | 1871 | Fire (rural) | 1,200-2,500 | Peshtigo, Wisconsin Upper Peninsula of Michigan |
| 13 | 1904 | Accident - Shipwreck | 1,021 | East River near New York City |
| 14 | 1893 | Tropical cyclone | 1,000-2,000 | Georgia, South Carolina |
| 15 | 1945 | Direct action (military), Shark attack, Drowning, Hypothermia | 879 | Near Guam |
This page was published on July 27, 2016.

This page was last modified on April 25, 2017.