Alaska Geography
Wild and beautiful Alaska is home to majestic mountains, glaciers, active volcanoes, huge tracks of forested land and some of the planet's most varied extremes of cold, heat, rain, snow and wind. In addition, Alaska is the most northern, western and eastern U.S. State.

Major geographical regions (north to south) include the Arctic Coastal Plain, North Slope, Brooks Mountain Range, a central upland dissected by the Yukon River, the massive Alaska Mountain Range, the Pacific Coastal areas and eastern Inside Passage, and the Alaskan Peninsula, and Aleutian Islands of the southwest.

The North Slope of the Brooks Range slopes gently north into the Arctic Coastal Plain, (or tundra). Beginning in the upper reaches of the Brooks Range, only the surface area of ice and snow thaw in spring, as the balance of the land remains frozen year-round. Melted water then flows north to the Arctic Ocean via countless streams and/or small rivers.

The Brooks Range is a collection of icy mountain peaks that form the northern front of a huge central upland area of low mountains, hills and river valleys, all dissected by the Yukon River and its tributaries.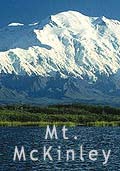 The countless mountains of the rugged Alaska Range, including Mt. McKinley, the highest point in Alaska and in all of North America at 20,320 ft., dominate the southeast regions of Alaska.

Along the thickly forested coastal areas (from southwest to southeast), numerous mountain ranges cover the land. They stretch southwest across the Kenai Peninsula, Kodiak Island, the Alaska Peninsula and the Aleutian Islands. The (70 some) Aleutian Islands extend across the North Pacific Ocean all the way to Russia. Many of these islands have active volcanoes.

The Inside Passage of Alaska's Panhandle that fronts the Pacific Ocean and Canada's British Columbia includes an estimated 1,000 islands, 15,000 miles of shoreline and thousands of coves and bays. This area also includes Glacier Bay National Park and toothy-edged peaks of the Rocky Mountains.

Hundreds of rivers drain the land, while the 2,000 mile long Yukon is the major river. Its largest tributaries include the Porcupine, Tanana and Koyukuk rivers. The state has almost three million lakes; Becharof and Iliamna lakes are the largest.

For a closer look at the topography of Alaska, view this topographic map
Alaska Photographs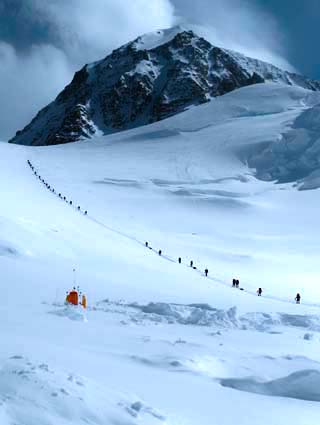 Mt. Hunter, Alaska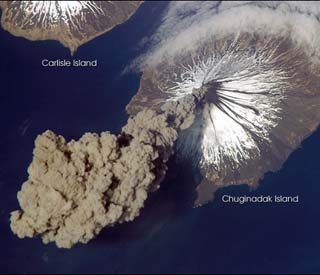 The Cleveland Volcano in the Aleutian Islands
NASA photo
Alaska Cities, Counties & Area Codes