WINNIPEG

Winnipeg is a multi-cultural city and the capital of Manitoba, located in south central Canada. Located near the eastern edge of the Canadian prairies, Winnipeg sits at the meeting point of the
Red and Assiniboine rivers
.
Home to more than 60 percent of
Manitoba's population
, Winnipeg is the seventh largest municipality in Canada. The city's diversified economy covers finance, manufacturing, transportation, food and beverage production and much more.
Known for its urban forests and parks, as well as its cultural organizations and festivals, Winnipeg is home to many theaters, museums, and festivals making it a great
Canadian travel
destination.
Winnipeg gets its name from the Cree words meaning 'muddy waters' because of the dark rivers and lakes found in the region.
'Peg' is known for its hand-painted murals, which can be found on downtown buildings, fire hydrants and traffic lights.
Winnipeg has claimed the Guinness World Record for the longest skating rink.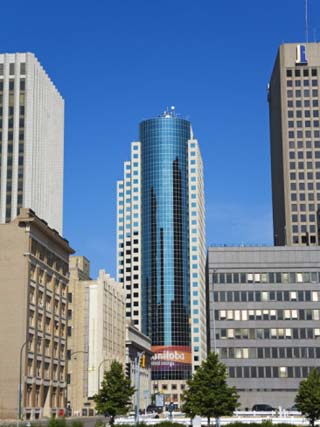 Canwest Global Plaza Tower...
Richard Cummins
Buy This at Allposters.com