Society
Violent Crime Rate By State
Alaska, Nevada and Tennessee have the worst rate of violent crime the United States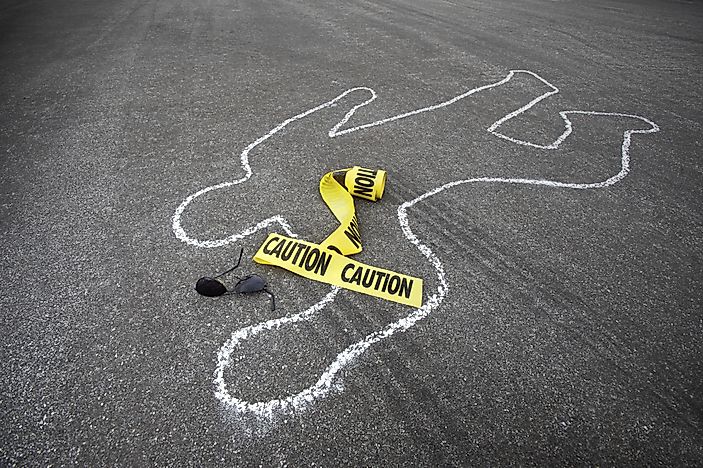 In recent years, the United States noticed an influx in regards to its crime rate. Crime within the country was increasing, not only in major metropolitan areas, but in rural counties as well. Alarming statistics were being derived in the most unlikeliest of places during this time. Below we will discuss the precise figures regarding the most recent crime rates within the United States.

The Highest Ranking States
Alaska has a high crime rate figure of 635.8 per 100,000 population. It is followed by Nevada which has 635.6 per 100,000 population. These states are followed by Tennessee and New Mexico as well as Florida. States with a somewhat better crime figure include Massachusetts with 391.4 per 100, 100 population and New York which has 381.8 per 100, 000 population. States that have a better crime rate level include Utah with 215.6 per 100, 000 population and Rhode Island, which has 229.3 violent crimes per 100, 000 population.
Lowest Ranking States
Virginia reported 196.2 crimes per 100,000 people. The states have a better overall crime rate figure than the above mentioned include New Hampshire with 196.1 per 100, 000 population and Wyoming with 195.5 per 100,000 population. The state with the lowest crime rates are Maine with 127.8 per 100, 000 population and Vermont with 99.3 per 100, 000 population.
The above figures tell a very eloquent story about reported crime rate in the US. It may also be said that some experts are predicting that the crime rates in the US as far as violent crimes go will raise in coming years. At the same time, it is good to know that violent and property crimes have overall declined according to the National Crime Survey.
Alaska
Alaska is a state with a high crime rate. Of the 351, 408 crimes reported in metropolitan areas, which constitute 100 percent of all crimes, 2,899 were related to violent crimes and 17 were related to murder and non-negligent manslaughter. There were 442 rapes and 329 rapes (legacy definition) as well as 557 robberies and 1,883 cases of aggravated assault.
Vermont
Compare this with a state like Vermont which has a very low crime rate – only 99.3 per 100,000 people. In metropolitan areas in this state there were 215,526 crimes reported, which constitute 100 percent of all crimes. Of these, 214 were violent crimes, 2 were murder and non-negligent manslaughter. There were 22 rapes (revised definition) and 20 rapes (Legacy definition). There were also 24 robberies and 166 cases of aggravated assault. The state also reported 4,265 property crimes in metropolitan areas in the state of Vermont.
Is Violent Crime in the United States Going Up or Down?
FBI Statistics
When looking for crime data in the US there are two main sources that are worth tapping. The first is the National Crime Survey and the other is the crime that is reported to the FBI.
According to the FBI, there has been an overall fall in the violent crimes that have been reported in recent years. Violent crimes include murder and rape as well as robbery and aggravated assaults. Property crime figures also show that there was a 7.5 percent fall in the most recent report.
National Crime Survey
The National Crime Survey has also reported that the violent crimes have recently fallen. This report says that the violent crimes in the US fell from 79.8 percent to just 20.1 for every 1,000 persons.
Of course, even though these figures tell their story it may be said that many crimes - even a majority of crimes - do not get reported. At least 50 percent of violent crimes and 40 percent of property crimes are not reported to the police. This is because the victims consider the matter to be personal or because the victim feels that the police cannot resolve the matter.
Violent Crime Rate By State
View information as a:
List
Chart
| Rank | U.S. State | Rate per 100K population |
| --- | --- | --- |
| 1 | Alaska | 635.8 |
| 2 | Nevada | 635.6 |
| 3 | Tennessee | 608.4 |
| 4 | New Mexico | 597.4 |
| 5 | Florida | 540.5 |
| 6 | Louisiana | 514.7 |
| 7 | South Carolina | 497.7 |
| 8 | Delaware | 489.1 |
| 9 | Arkansas | 480.1 |
| 10 | Maryland | 446.1 |
| 11 | Missouri | 442.9 |
| 12 | Alabama | 427.4 |
| 13 | Michigan | 427.3 |
| 14 | Oklahoma | 406.0 |
| 15 | Texas | 405.9 |
| 16 | Arizona | 399.9 |
| 17 | California | 396.1 |
| 18 | Massachussets | 391.4 |
| 19 | New York | 381.8 |
| 20 | Georgia | 377.3 |
| 21 | Illinois | 370.0 |
| 22 | Indiana | 365.3 |
| 23 | Kansas | 348.6 |
| 24 | North Carolina | 329.5 |
| 25 | South Dakota | 326.5 |
| 26 | Montana | 323.7 |
| 27 | Pennsylvania | 314.1 |
| 28 | Colorado | 309.1 |
| 29 | West Virginia | 302.0 |
| 30 | Wisconsin | 290.3 |
| 31 | Washington | 285.2 |
| 32 | Ohio | 284.9 |
| 33 | Nebraska | 280.4 |
| 34 | Mississippi | 278.5 |
| 35 | Iowa | 273.5 |
| 36 | North Dakota | 265.1 |
| 37 | New Jersey | 261.2 |
| 38 | Hawaii | 259.2 |
| 39 | Connecticut | 236.9 |
| 40 | Oregon | 232.3 |
| 41 | Minnesota | 229.1 |
| 42 | Rhode Island | 219.2 |
| 43 | Utah | 215.6 |
| 44 | Idaho | 212.2 |
| 45 | Kentucky | 211.6 |
| 46 | Virginia | 196.2 |
| 47 | New Hampshire | 196.1 |
| 48 | Wyoming | 195.5 |
| 49 | Maine | 127.8 |
| 50 | Vermont | 99.3 |