Travel
Biggest National Parks In The United States
12 U.S. National Parks exceed 1 million acres in area, with 7 of these being found in Alaska.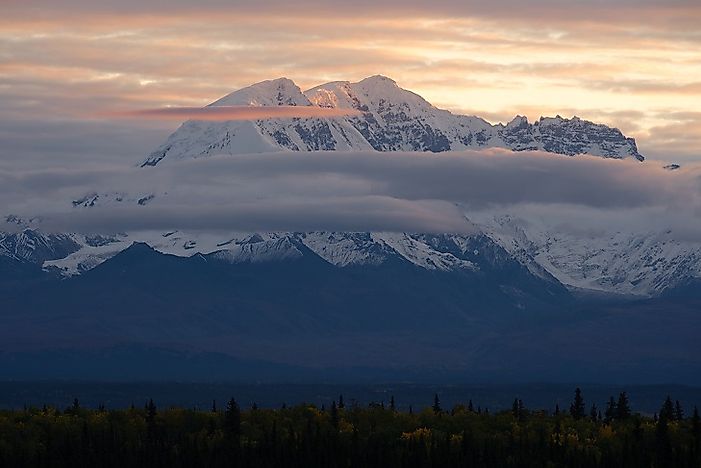 The term "National Park" was originally defined as a set aside place of wilderness, with its conservation to be for posterity to serve as a symbol of national pride. The United States defines it as a public park for the enjoyment and benefit of the people. National parks never close except when weather dictates such for the safety of the public. In many National Parks, visitors are welcome to camp and enjoy outdoor activities while inside the park.
Largest National Parks in the US
The United States has 12 National Parks exceeding 1 million acres in area, with 7 of these being found in Alaska. The Wrangell-St. Elias National Park (8,323,148 acres) is located in Alaska. Visitors can encounter Alaskan bears, moose, wolves, bison, and caribou. Salmon, sea lions, and seals swim in its waters. Snow-capped volcanoes line its horizon. The Gates of the Arctic (7,523,898 acres) is also in Alaska. One of the remotest parks in the US, it has no roads. Six wild rivers, boreal forests, ancient seabeds, cliffs, and mountain ranges stretching to the Arctic Ocean are all part of the topography of this park. Denali (4,740,912 acres), is another impressive wilderness to explore in Alaska. The highest peak, Mount Mckinley (20,310 feet), is the tallest in North America. Fossils can be found in some areas while glaciers (16% coverage) are in the higher elevations. Grizzly and brown bears, caribou, sheep, moose, birds, and swans are some of the fauna in the park. Katmai (3,674,530 acres) is another massive park in Alaska. The area is sinfully full of active volcanoes. It also exhibits a wide assortment of wildlife such as birds, grizzlies, and moose. Spectacular waterfalls, fjords, marshlands, and dense forested areas. Death Valley (3,372,402 acres) is found along the California-Nevada border. Visitors will see snow-capped mountains, colorful rock layers, water-fluted canyons, and seemingly never-ending sand dunes. Glacier Bay (3,224,840 acres) is another park located in Alaska, and home to one of the world's greatest displays of glacier ice. The white scenery is complemented by deer, goats, bears, waterfowl, whales, and porpoises. Lake Clark (2,619,733 acres) is also located in Alaska. Active volcanoes, glaciers, wild rivers, and wild animals are the attractions in this wilderness park. Yellowstone (2,219,791 acres) straddles the states of Wyoming, Montana, and Idaho. Nature's wonders abound such as geysers, hot springs, waterfalls, lakes, and wild rivers. Grizzlies, bison, elk, antelopes, falcons, eagles, pelicans, swans, cougars, and wolves inhabit this wild land. Kobuk Valley (1,750,717 acres) is another place of solitude in Alaska. Close to one million caribou migrate to the north in the spring and back to the south in the fall, making this park a busy place. Wild rivers, sand dunes, red bluffs, and fossils all make the park an attractive destination. Everglades (1,508,538 acres) can be found in Florida. A tropical wilderness composed of wetlands and forests, fauna such as wading birds, panthers, crocodiles, and manatees all converge in its many water habitats. The Grand Canyon (1,217,403 acres) is situated in Arizona. With some of the cleanest air in the US, it provides a visibility of 90 to 110 miles on a clear day. The awesome topography of the canyon was just formed in the last 5 million years. Forested areas are where the fauna can be found. The trek down to the bottom of the canyon is medium difficult but worth doing to see the Navajo people making baskets, rugs, and pottery. A waterfall-fed turquoise pool is also a spectacular sight. Glacier (1,013,572 acres) is another spectacular national park located in Montana. Spectacular peaks rising from rolling plains surrounded by glaciers, hundreds of lakes formed from glacial melt, waterfalls, and hiking trails are all here. Fauna such as bears, golden eagles, and wolves all make their appearance here as well. Great storms here complement the glacial melt that brings its waters down to the Pacific.
History of US National Parks
On April 20th, 1832, U.S. President Andrew Jackson signed a piece of legislation to protect the Hot Springs Reservation area in Hot Springs, Arkansas, which contained thermal springs and adjacent wild forested areas. This was the first ever act of the US Congress to protect a designated land. Later on March 4, 1921, it was declared a national park. On July 1st, 1864, President Lincoln yielded Yosemite Valley and Mariposa Grove to California. In 1872, President Ulysses Grant declared Yellowstone as the first national park in the US. This was followed by Mackinac National Park in 1875, and Rock Creek Park, Sequoia, and Yosemite in 1890. Today, there are 59 national parks in the US.
Biggest National Parks In The United States
| Rank | Park, Location | Area |
| --- | --- | --- |
| 1 | Wrangell-St. Elias, Alaska | 8,323,148 acres |
| 2 | Gates of the Arctic, Alaska | 7,523,898 acres |
| 3 | Denali, Alaska | 4,740,912 acres |
| 4 | Katmai, Alaska | 3,674,530 acres |
| 5 | Death Valley, California-Nevada | 3,372,402 acres |
| 6 | Glacier Bay, Alaska | 3,224,840 acres |
| 7 | Lake Clark, Alaska | 2,619,733 acres |
| 8 | Yellowstone, Wyoming-Montana-Idaho | 2,219,791 acres |
| 9 | Kobuk Valley, Alaska | 1,750,717 acres |
| 10 | Everglades, Florida | 1,508,538 acres |
| 11 | Grand Canyon, Arizona | 1,217,403 acres |
| 12 | Glacier, Montana | 1,013,572 acres |