Environment
Banc d'Arguin National Park, Mauritania
Situated along the Atlantic Coast, the park's dunes and swamps provide nesting habitats for many migratory birds.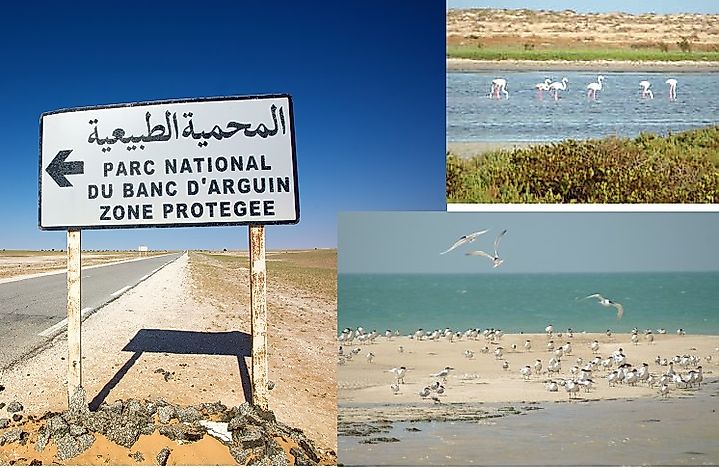 5. Physical Geography -
The Banc d' Arguin National Park is located in the Bay of Arguin along the Atlantic Ocean coastline of Mauritania in western Africa. It is situated between the towns of Nouakchott, Mauritania's capital city and Nouadhibou, the second largest city in Mauritania. The park's land area is approximately 4,634 square miles and is mainly composed of sand dunes, coastal swamps, small islands, and shallow coastal waters. There is a major contrast between the coastal climate and the harsh arid environment of the Sahara Desert. This has resulted in the unique landscapes and seascapes of the area.
4. Administration and Management -
The administration of the park is under Mauritania's Statute of Protected Reserves, and carried out through a management plan. The Banc d' Arguin National Park is a nature reserve established in 1978 to protect both its natural resources and fisheries. Several problems have been faced at the park and a surveillance program was created to monitor the risks and find solutions.
3. Research, Tourism, and Education -
The Banc d' Arguin National Park is a coveted site due to its biodiversity and its strategic location. It was designated as a natural World Heritage Site by the United Nations Educational, Scientific, and Cultural Organization (UNESCO) in 1989 due to the major breeding activities of such migratory birds as flamingos and various seabirds on the site. The water surrounding the Bay of d' Arguin are the richest fishing waters in West Africa but have also served as a nesting ground for the western region. The park has a significant impact on the country's economy due to the various recreational sites in and around the park. Over two million shorebirds have migrated their initial home and countries and settled at this park due to the absence of human disturbance and the region's mild climate.
2. Habitats and Biodiversity -
The park is home to people, animals, and plants. The human population is comprised of up to 500 Imraguen tribal people living in seven villages, and these depend on fishing for their livelihoods. There have been more than 108 species of birds recorded in the park like the wintering shorebirds migrating from various ecological regions in the world due to the breeding grounds found in the park. Various endangered marine mammals have been recorded throughout the year within the park like the Atlantic humpback dolphins. In addition to that, various species of whales have been recorded in the park as well. Due to the changing climate in different parts of the park, the vegetation changes, for instance, on the coastal dunes, the vegetation is rare whereas at the central region high grass and spiny shrubs are found. The northern part of the park consequently has little vegetation unlike at the foot ridges where dwarf acacias and large tamarisk bushes are found.
1. Environmental Threats -
There has been increased water pollution in the waters of the Bay of d' Arguin due to the oil spills from the petroleum industries and the use of maritime routes along the coasts of western Africa. Poaching and logging of the property have led to the degradation of the terrestrial part of the property. These problems if not immediately and efficiently dealt with, will lead to the reduction or death of both the diverse marine life and diverse vegetation in the