WILLIAMSBURG

Historic Williamsburg, Virginia is located on a peninsula between the James and York Rivers near the Eastern seaboard. The city is best known for its thriving tourism and the superior restoration of colonial architecture that reflects the rich American history of the area.
The Colonial Parkway links Williamsburg with Yorktown (16 miles from town center) and the restored Jamestown settlement (just 5.5 miles away) making this one of the densest regions of colonial culture in the
United States
.
Colonial Williamsburg is a living history museum. Residents and workers of the plantations dress, act and depict the lifestyles of colonists from the 18th century. This
Virginia
city's mild seasons provide a perfect
climate
for outdoor activities year round.
Williamsburg features well groomed suburbs, many with stately homes from the 1600 and 1700's. This southeast area of the state is also home to nearby
Norfolk
, Newport News, Chesapeake, and
Virginia Beach
.
The local Williamsburg Pottery Factory and Outlets is Virginia's biggest tourist draw. Anheuser-Busch established its large operation outside of Williamsburg. The company runs a brewery and two theme parks, Busch Gardens and Water Country USA, reside near the beer house.
ADDITIONAL VIRGINIA CITY PAGES:
The College of William and Mary was founded in 1693 in Williamsburg and is the nation's second oldest educational institution after Harvard in Boston, MA.
In 1781 British General Lord Cornwallis surrendered to George Washington at nearby Yorktown ending the War for Independence.
Williamsburg is the home of American's very first theatre.
George Washington and Thomas Jefferson are both from Virginia.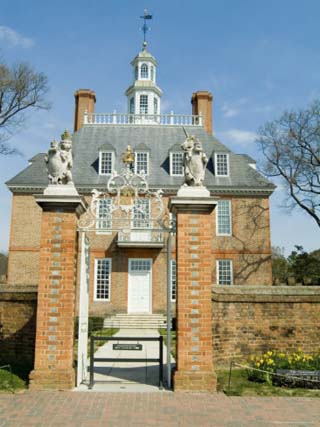 Governor's Palace...
by Ethel Davies
Buy This at Allposters.com