NEWPORT

Positioned on the southern tip of Aquidneck Island in
Rhode Island's
Narragansett Bay, the seaport town of Newport was founded in 1639.
Renowned for its elegant mansions and the Newport Jazz Festival, Newport was the playground for wealthy
U.S.
industrialists in the 19th century.
The mansions are living testimony to the decadence of that era; made with materials and artistry so outrageously expensive, the mansions would be all but impossible to reproduce today.
Newport is without questions the ultimate
Rhode Island beach
town with its cobblestone streets, upscale shops, trendy restaurants, sandy beaches and flotillas of sleek sailboats.
Enjoying warm and breezy summers, and some say, perfect sailing conditions, Newport is the proud home of Newport Cup sailing with a strong dedication to the sport of sailing and lifestyle.
ADDITIONAL RHODE ISLAND CITY PAGES:
Newport Firsts: 1697 - first city to pass a traffic ordinance; hosted the First Circus in 1794; first to use gas street lights in 1803; and home to the first U.S. auto race in 1895.
Newport's Oldest: This weathered New England seaport is home to the United States' oldest bank building, oldest synagogue (1759), and oldest typewriter in the country. The White Horse Tavern, built in 1693, is the oldest tavern in the United States still doing business today.
For many years Newport was home to the largest event in sailing, the America's Cup race.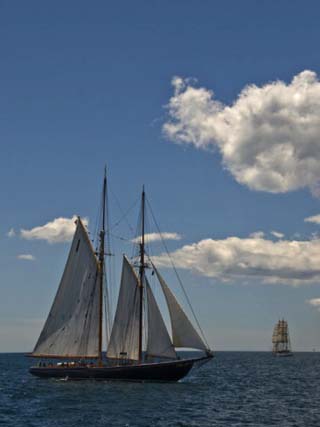 Tall Ships...
by Todd Gipstein
Buy This at Allposters.com