Barbados, the easternmost island in the Caribbean is relatively flat in comparison to its more-mountainous island neighbors to the west.
In the western half of the island the land rises gently from coastal lowlands into rolling hills. Beyond those hills in the central highland region stands the island's highest point, Mount Hillaby, at 1,120 ft. (340 m) above sea level.
In the eastern third of Barbados, the landscape rises sharply into low hills that shadow the coastline.
Barbados is drained by a few small rivers and all rise in the hilly areas of the central and north. Rainfall also irrigates Barbados through a series of small streams.
Offshore, much of the country is circled by coral reefs.

Barbados Photographs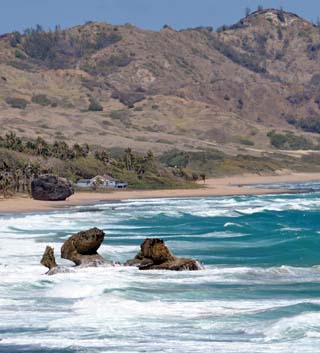 Coral rocks along the eastern coastline of Barbados
Countries & Territories Of The Caribbean
This page was last modified on April 7, 2017.