Coat of Arms: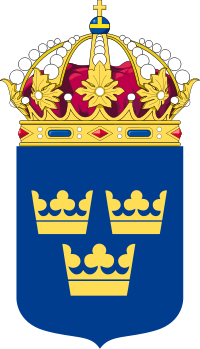 The Lesser Coat of Arms is the one more frequently used in Sweden today.

This colorful banner features three crowns of gold, two over one, topped by a bejeweled closed crown.

The three crowns have been, in one way or another, an emblem of Sweden since 1336, then used as a familiar symbol of the "Three Wise Kings."

An additional legend regarding its application is that King Magnus Eriksson (1319-64) adopted the three crowns to symbolize his title, "King of Norway, Sweden and all of Scania," - a southern province.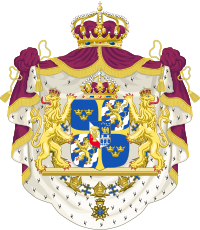 The Greater Coat of Arms represents Sweden's monarch, and is used on special occasions by the Government and by the Swedish Parliament.

Developed in the 1440's as the seal of then King, Karl Knutsson Bonde, it's been used ever since.