Animal: Lion
Coat of Arms:




Coat of Arms: The royal coat of arms is placed on a mantle of ermine surmounted by a crown. The coat of arms date from 1815, when the Kingdom of the Netherlands was founded.

It is the same as the Dutch national coat of arms. It originates from the county of Nassau in Germany, and the central lion is the same as the lion on the oldest coat of arms of Nassau, dating from the 13th century.
Flower: Tulip (unofficial)

Note: Though not official symbols of the Netherlands, tulips, windmills and wooden shoes are widely associated with the country. Perhaps no one item symbolized the Netherlands more succinctly than the tulip.

The Netherlands produce approximately nine billion flower bulbs annually. That incredible number of bulbs would allow for almost two flower bulbs for every person on the planet. Of those bulbs, the tulip (in a variety of colors) remains the most popular and widely recognized bulb by gardeners worldwide.
Motto: "Ik zal handhaven" "I will maintain"
National Anthem: "Wilhelmus van Nassouwe" ("William of Nassau"); lyrics are widely considered written by the poet, Philips van Marnix, Seigneur of Sint Aldegonge. Source of music is unknown.
Netherlands Photographs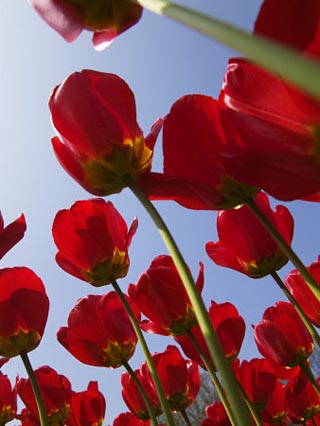 This page was last modified on April 7, 2017.