1 | 2
Description (Page 1)
The Maltese islands were first settled by Stone Age hunters in 5200 BC, who migrated from the island of
Sicily
, and by 700 BC ancient
Greeks
had arrived, followed by the Phoenicians.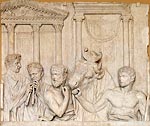 The islands fell under Roman rule during the first century AD, following Malta's loyalty towards Rome during the First and Second Punic Wars.
Then, when the Roman Empire was divided into eastern and western regions, the Maltese islands fell into the hands of the Byzantine Empire for the next four hundred years.
After the Byzantine rule came to end, the Kingdom of
Sicily
took over, and it was during the era of count Roger II of Sicily in 1127 that saw the Maltese islands move from a mostly Arab culture to a
European
one.
The Maltese islands remained under
Sicily's
rule until the beginning of the 16th century when the Ottoman Empire began to spread.
Fearing the end of Christian
Europe
was upon them, Spanish King Charles V handed over the islands to the Knight Hospitallers of St. John for their protection.
These knights eventually became known as the famous "Knights of Malta" and spent the next 275 years building new towns, and enhancing the cultural heritage.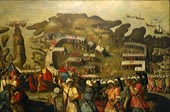 In 1565, the Ottoman Empire invaded the island, in what has become known as the Great Siege of Malta.
For the Ottoman's it was all in vain, as the Knights were more than prepared for an attack, and were relatively quick in claiming a victory against the Ottoman Empire.
The reign of the Knights ended in 1798 when Napoleon seized Malta during the
French
Revolutionary Wars.
The Maltese were less than thrilled with the
French
invasion, and rebelled against the new financial and religious policies set forth.
Great Britain
, the Kingdom of Naples and the Kingdom of
Sicily
all sent Malta ammunition and aid, and helped push
France
into surrendering in 1800.
Description continued...