Economics
Who Are The World's Largest Chemical Producing Companies?
BASF, a German chemical company, is the largest of its kind in the world in terms of annual chemical sales.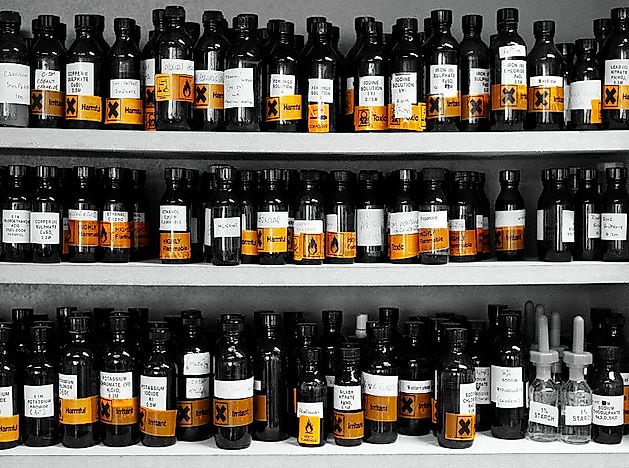 Chemical producing companies use raw materials which are primarily minerals and convert them into various end products. These companies have seen a spike in production due to the recent growth of the construction industry in Asia and the Middle East. The most popular of the end products include plastics and polymers which have a huge demand globally in all sectors of the economy from health to agriculture. The chemical industry and chemical producing companies have existed throughout history in leather tanning and glass making but saw large scale production and specialization during the 18th-century industrial revolution in Europe. The earliest company during this period was the Leblanc Company whose founder, Nicolas Leblanc, had invented a way to produce alkali from sea salt. Chemical companies have grown in scale and numbers since the industrial revolution, and chemical companies are among the biggest in the world.

1. BASF (Ludwigshafen, Germany)
BASF is the biggest chemical producing company in the world with annual sales reaching $78.7 billion in 2014. The German company, headquartered in Ludwigshafen, Germany is focused on industry grade chemicals used in the automotive, construction, and pharmaceutical industries. Founded in April 1865, the company was formerly known as Badische und Soda Fabrik, a German word meaning "Baden Aniline and Soda Factory." BASF was founded by Friedrich Engelhorn in Mannheim. In its early days, BASF became renowned for producing dyes. During the WWII, BASF along with other chemical companies such as Hoechst and Bayer merged to create I.G. Farbenindustrie AG. The new company was engaged in the production of various weapons and became infamous for the manufacture of Zyklon B, a lethal gas used in mass holocaust during WWII. The company experienced many industrial accidents and explosions which led to numerous causalities and tarnished its reputation. So in 1952, BASF was rebranded and took on its original name. In 1990 the company dropped all its consumer product lines and focused on industrial products only.
2. SABIC (Riyadh, Saudi Arabia)
SABIC is a chemical producing company in Saudi Arabia and is the biggest company in the Middle East. The company is currently the biggest producer of polycarbonate and granular urea and is the second largest producer of ethylene glycol in the world. With a labor force of more than 40,000 people, the company has seen its revenue grow to reach $50.4 billion in 2014. SABIC (also known as the Saudi Arabia Basic Industries Corporation) was founded by the Saudi royal family in 1976 as an oil refinery. The creation of the company spurred the growth of the neighboring area transforming Yanbu from a fishing village to what is now one of the biggest industrial cities in the world.
3. Dow Chemical (Midland, USA)
The Dow Chemical Company is also known as Dow, and it is American multinational chemical company with headquarters in Midland, Michigan, US. In 2007, the Corporation was the world's second largest chemical manufacturer by revenues after BASF. In 2009 the company was ranked as the world's third largest chemical manufacturer by market capitalization after BASF and DuPont. In 2014 the organization was the second-largest chemical producer in the world.The company manufactures agricultural products, chemicals, and plastic products. Dow Chemical has branches in 160 countries worldwide with a workforce of about 54,000 people. The company has seven main operating segments and a variety of products manufactured by each one. In 2012 the company's total sales reached $57 billion, and by 2014 it had reached 58.2 billion. The company was founded in 1897 by a Canadian-born chemist Herbert Henry Dow, who was the inventor of a new method of extracting bromide underground in brine at Midland, Michigan. The company initially sold only potassium bromide and bleach achieving 72 tons a day in 1902.
Hazards Associated With Chemical Companies
Chemical producing companies have a reputation of causing large scale environmental pollution such as the American Dow Chemical Company which in 1984 emitted poisonous gasses into the atmosphere which spread to neighboring towns killing as many as 3,000 people. These chemical producing companies are also prone to disasters such as explosion which lead to loss of life. The BASF Company had such an explosion occur in 1948 where 207 people lost their lives. Dow was fined $2 million in 2003 to pay the state of New York and was the largest penalty in a pesticide case on the illegal claim of safety of chemicals.
Which Are The World's Largest Chemical Producing Companies?
| Rank | Company | Chemical Sales (In 2014 USD millions) | Headquarters |
| --- | --- | --- | --- |
| 1 | BASF | 78,698 | Ludwigshafen, Germany |
| 2 | Dow Chemical | 58,167 | Midland, USA |
| 3 | Sinopec | 57,953 | Beijing, China |
| 4 | SABIC | 43,341 | Riyadh, Saudi Arabia |
| 5 | ExxonMobil | 38,178 | Irving, USA |
| 6 | Formosa Plastics | 37,059 | Taipei, Taiwan |
| 7 | LyondellBasell | 34,839 | Houston, USA |
| 8 | DuPont | 29,945 | Wilmington, USA |
| 9 | Ineos | 29,652 | Rolle, Switzerland |
| 10 | Bayer | 28,120 | Leverkusen, Germany |
| 11 | Mitsubishi Chemical | 26,342 | Tokyo, Japan |
| 12 | Royal Dutch Shell | 24,607 | The Hague, Netherlands |
| 13 | LG Chem | 21,456 | Seoul, South Korea |
| 14 | Braskem | 19,578 | São Paulo, Brazil |
| 15 | Air Liquide | 19,210 | Paris, France |
| 16 | AkzoNobel | 19,011 | Amsterdam, Netherlands |
| 17 | The Linde Group | 18,593 | Munich, Germany |
| 18 | Sumitomo Chemical | 17,833 | Tokyo, Japan |
| 19 | Mitsui Chemicals | 17,201 | Tokyo, Japan |
| 20 | Evonik Industries | 17,177 | Essen, Germany |
This page was published on February 17, 2017.

This page was last modified on April 25, 2017.