Society
The 10 Most Populous Cities In Switzerland
The picturesque city of Zurich is the most populated city in the Alpine nation of Switzerland.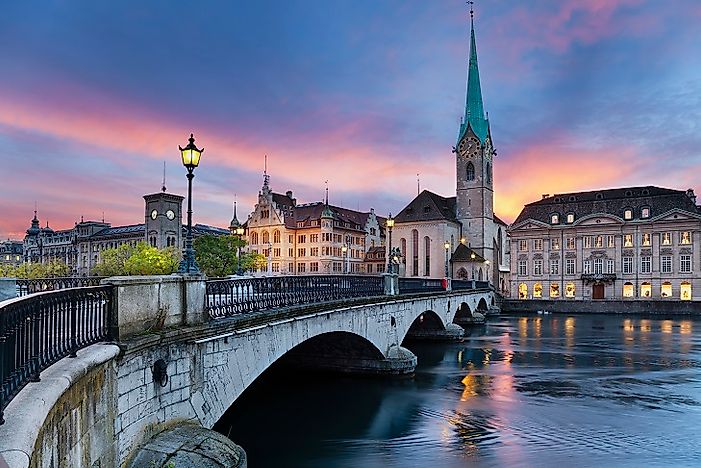 The name Switzerland originally came from Switzer, used from the 16th through 19th Centuries to describe Swiss people. The country has a direct democracy and federalism form of government and is one of the most developed countries in the world. The Swiss enjoys one of the highest standards of living anywhere as well. Its GDP per capita ranks eighth highest in the world and has more millionaires than anywhere in Europe. Tourism, insurance, international organizations, and banking drives its robust economy. Exports of watches, machines, chemicals, and electronics also gives it an edge. According to Mercer, the cities of Zurich and Geneva are two of the most livable Swiss cities in the world. Its population was around 8,341,000 Swiss citizens as of 2014.
Switzerland's Physical Characteristics and Infrastructure
Swiss cities are mostly located in the Swiss plateau in close proximity to ski resorts and nature. The country is blessed with bountiful plains and hilly terrain dotted with large Alpine lakes. Climate is varied with Mediterranean cool in the country's southern tip. Warm humid summers with rainfall favoring grazing land and pastures, temperate winters in the glacial mountainous regions, and low-light winters in the lowlands. Switzerland has major transportation hubs but Zurich International Airport is one of the busiest in the country today with railway connections to Basel, Geneva, and Zurich.
Zurich
The banking capital and picturesque city of Zurich is the most populated city in the Alpine nation of Switzerland. Its population of 366,445 Swiss people enjoy the best of culture, shopping, and cuisine.
Geneva
Geneva is the second most populated city with 177,500 French-speaking Swiss citizens. The city is also a banking center but most known as the center for diplomacy with many UN agencies in the city. Its architectural inventory is part of the Swiss Heritage Sites.
Basel
Basel is the third most populous city in the country with 165,000 German-speaking Swiss as of 2016. Its economy is centered around banking and chemical manufacturing.
Bern
Fourth is Bern, a UNESCO World Heritage site, with a population of 140,228. Its attractions are Bear Park, museums, gardens, and old town.
Lausanne
Fifth is Lausanne with a population of 129,273. Its French-speaking population enjoys the city's status as Olympic Capital since 1994 where the International Olympic Committee is based.
Lucerne
Sixth is Lucerne with a population of 77,491 Swiss citizens.
Other Major Swiss Cities
The following Swiss cities which are also on the list include St. Gallen with a population of 70,000, Lugano with its population of 68,500, Fribourg, with a population of 32,000, and Thun, with its population of 40,000.
The Swiss Tourism Industry
Tourism in Switzerland is symbiotic with nature. A climate that complements sightseeing tours, skiing, and mountaineering. Tourists have always favored several destinations in the country, including the Rhine Falls, the Bern Bear Exhibit, and the Zoo Basel. Mountains and mountaineering defined Switzerland since the earliest days of tourism in the country. British mountaineers were the first to discover Swiss Alpine mountains of the Bernese Alps. The Jungfrau in 1811 and the Finsteraarhorn in 1812 were favorites destinations. The earliest holiday organizers into Switzerland were two British companies, namely Lunn Travel and Thomas Cook. In 2010, tourism in Switzerland accounted for around 2.9% of its nominal GDP of 550.57 Billion Swiss Francs (US $558.23 Billion).
The 10 Most Populated Cities In Switzerland
| Rank | City | Population |
| --- | --- | --- |
| 1 | Zurich | 366,445 |
| 2 | Geneva | 177,500 |
| 3 | Basel | 165,000 |
| 4 | Bern | 140,228 |
| 5 | Lausanne | 129,273 |
| 6 | Lucerne | 77,491 |
| 7 | St. Gallen | 70,000 |
| 8 | Lugano | 68,500 |
| 9 | Fribourg | 32,000 |
| 10 | Thun | 40,000 |
This page was published on July 22, 2016.

This page was last modified on April 25, 2017.