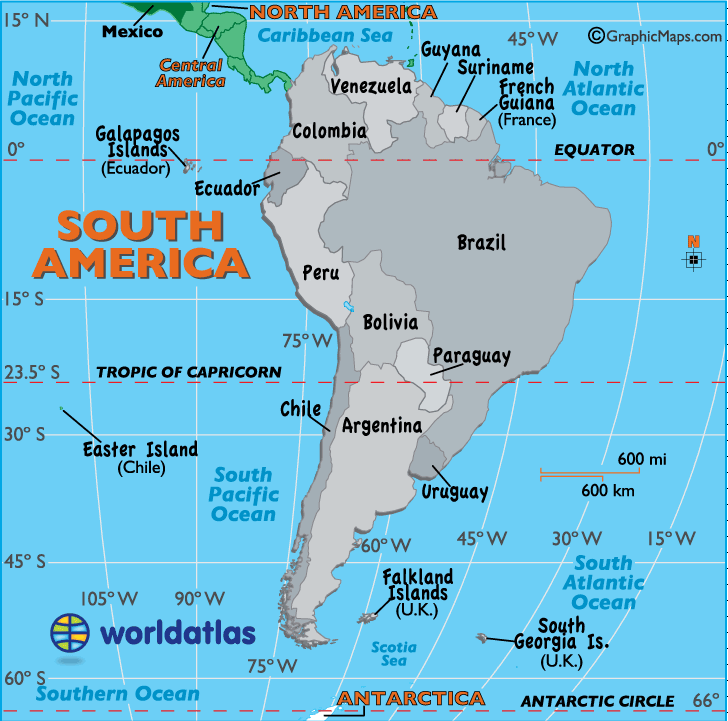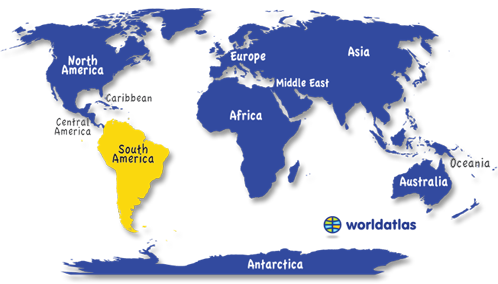 South America Time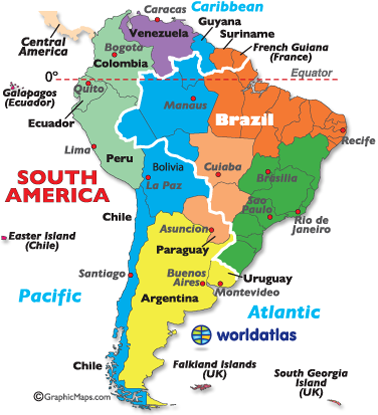 - match the time bar color to the map color -
across South America...
Across South America, both
Daylight Saving Time
and
Standard Time
are in effect.

When countries, islands and regions are using
DAYLIGHT SAVING TIME
it is indicated by a red
(DST)
.
Although variations may apply, and often with little notice,
Daylight Saving Time
is not
observed in Bolivia, Colombia, Ecuador, French Guiana, the Galapagos Islands, Guyana, Peru, South Georgia Island, Suriname and Venezuela.
Time in Brazil is particularly complicated as Brazil spans four major timezones. Sao Paolo and Rio de Janiero are both located in BRST or BRT timezone depending on the observence of DST, putting them either 3 or 2 hours behind UTC.
The small island of Fernando de Noronha, Brazil is 2 hours behind UTC. The two western timezones of Brazil, Amazonas Time and Acre Time are both 4 hours behind UTC and do not observe DST.
Note that Venezuela is 4.5 hours behind UTC.
Additional details on world timezones


Galapagos Islands
GALT - 6 hours from UTC

Venezuela
VET - 4:30 hours from UTC

Suriname, French Guiana
SRT, GFT - 3 hours from UTC

Recife, Brazil
BRT - 3 hours from UTC

Colombia, Ecuador, Peru
COT, ECT, PET - 5 hours from UTC

NW Brazil - Manaus
AMT - 4 hours from UTC

SE Brazil - Rio de Janiero
BRT - 3 hours from UTC

Falkland Islands
(DST)
FKST - 3 hours from UTC

Easter Island
EASST - 5 hours from UTC
(DST)

Bolivia, Guyana
BOT, GYT - 4 hours from UTC

Paraguay, Cuiaba (Brazil)
PYT - 4 hours from UTC

South Georgia Island
FNT - 2 hours from UTC




Chile
CLST - 3 hours from UTC
(DST)

Argentina
ART - 3 hours from UTC

Uruguay
UYT - 3 hours from UTC
Timezone Abbreviations

GALT
(Galapagos Time)
BOT
(Bolivia Time)
GYT
(Guyana Time)
SRT
(Suriname Time)
GFT
(French Guyana Time)
BRT
(Brasillia Time)
COT
(Colombia Time)
ECT
(Ecuador Time)
PET
(Peru Time)
PYT
(Paraguay Time)
FKST
(Falkland Islands Summer Time)
ART
(Argentina Time)
FNT
(Fernando de Noronha Time)
VET
(Venezuela Time)
AMT
(Amazonas Time)
CLST
(Chile Summer Time)
EASST
(Easter Island Summer Time)
UST
(Uruguay Time)
(DST)
Daylight Saving Time