IQALUIT

Located on remote Baffin Island in
Nunavut
territory, Iqaluit was founded in 1942 as an American airbase and the name means "place of many fish" in Inuktitut.
It has the distinction of being the smallest Canadian capital in terms of population with just over 6000 people as well as the only capital not connected to other settlements by a highway.
A last frontier and gateway to the fabled
arctic north
, Iqualuit is known for its unique Inuit culture and intrepid people. With very cold long winters and short cool summers, Iqaluit temperatures ranges from a frigid -33C to a comfortable 10C (-27F to 50F). The only city for thousands of miles in any direction, the nearest cities include
Quebec City
,
Montreal
, and
Halifax
all about 2000 miles away to the south.
While one of the most remote cities in the
world
, this
Canadian vacation
adventure offers a chance to live at the edge of civilization, experience the warm hospitality of the Nunavut people, and some of the most awesome natural beauty on the planet. Seals, walrus, beluga whale, polar bear, and a variety of sea birds, including eagles and arctic terns, make up the wildlife of this remote
North American
city.
It has been rumored that Iqualuit is an emergency landing site for the Space Shuttle, however, according to NASA this is not true.
Iqaluit is accessible only by plane and, subject to ice conditions, sometimes by boat.
On February 5th and 6th, Iqaluit was the host city for the 2010 meeting of G7 finance ministers, an economic and political group of the seven largest industrialized nations.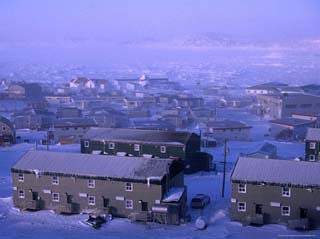 A spring blizzard engulfs Iqaluit...
by Grant Dixon
Buy This at Allposters.com