St. John's, Newfoundland Map - St. John's Attractions, Signal Hill, Canada Vacation Cities, Johnson Geo Center



St. John's, the oldest English-founded settlement and the most north easterly point in North America, combines old world charm, with exceptional services and facilities, along with unique architecture, historic and natural attractions.

The provincial capital of Newfoundland and Labrador, St. John's is so unique, it has its own time zone, a half hour off kilter with the rest of the world.

Offering a mixture of new and old, St. John's teems with historic sites along with various establishments for an exciting nightlife.

St. John's has the third mildest winter compared to other cities in Canada, while summers are cool to warm, making outdoor activities attractive no matter what time of year.

St. John's is truly one of the most unique destinations you will ever visit.


St. John's is home to North America's oldest annual sporting event, the Royal St. John's Regatta, a sailing race that dates back to at least 1816.
The last battle of the Seven Years War was decided on Signal Hill. Ruins of the old forts with their ancient remain.
The first transatlantic radio wireless message was received by Guglielmo Marconi in St. John's.



Check out these places to see on your St. John's Newfoundland and Labrador vacation:
Signal Hill
A Canadian National Historic Site, Signal Hill offers a rich lesson in Canadian history along with magnificent views of the Newfoundland shoreline, the Atlantic, and Conception Bay.

The focal point of Signal Hill is the castle-like structure, Cabot Tower, built in 1897 to commemorate the 400th anniversary of John Cabot's discovery of Newfoundland and Queen Victoria's Diamond Jubilee.


The Rooms
Newfoundland and Labrador's largest public cultural space, The Rooms, is home to the Provincial Archives, Art Gallery and Museum.

The Rooms was built on the site where Fort Townshend, one of the largest British fortifications in North America once defended its fishing interests.

Visit The Rooms and learn about canoe-building from an Innu native, glacier changes and flora and fauna of Newfoundland and Labrador. Visit a recreated fort and check out the special exhibits including a Canadian heritage quilt project.


Johnson Geo Centre
The Johnson Geo Centre is a unique geological interpretation centre focusing on the geology of Newfoundland and Labrador. The center tells the 4.5 billion year old story of the earth, especially the structure and forces that have molded the shape of Canada's landforms and coastline.

The only part of the centre built above ground is the glass-encased entry. The rest of the space is underground - built inside solid rock walls on the historic Signal Hill.

The Johnson Geo Centre features the stories about the radical changes taking place in our climate and the influences of the Sun and Earth's gravity.

Enjoy the enormous solar system model, educational programs and documentaries for all ages.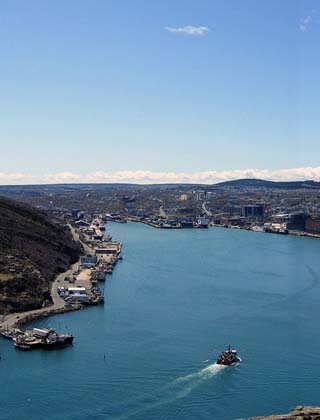 St. John's Harbor
JcPollock at en.wikipedia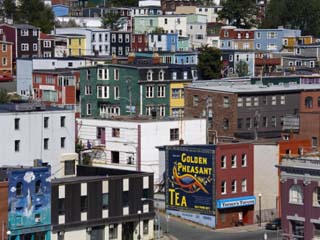 Colorful houses...
by Richard Cummins
Buy This at Allposters.com