ST. JOHNS

St. John's, the oldest English-founded settlement and the most north easterly point in
North America
, combines old world charm, with exceptional services and facilities, along with unique architecture, historic and natural attractions.
The provincial capital of
Newfoundland and Labrador
, St. John's is so unique, it has its own
time zone
, a half hour off kilter with the rest of the world.
Offering a mixture of new and old, St. John's teems with historic sites along with various establishments for an exciting nightlife.
St. John's has the third mildest winter compared to other cities in
Canada
, while summers are cool to warm, making outdoor activities attractive no matter what time of year.
St. John's is truly one of the most unique destinations you will ever visit.
St. John's is home to North America's oldest annual sporting event, the Royal St. John's Regatta, a sailing race that dates back to at least 1816.
The last battle of the Seven Years War was decided on Signal Hill. Ruins of the old forts with their ancient remain.
The first transatlantic radio wireless message was received by Guglielmo Marconi in St. John's.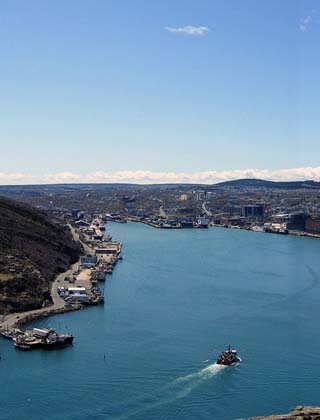 St. John's Harbor
JcPollock at en.wikipedia