Turks and Caicos Geography
The islands (for the most part) consist of low, flat limestone with extensive marshes and mangrove swamps, all ringed by sandy beaches.
Middle Caicos and North Caicos are covered in some areas by green woodlands and a network of caves.
The highest point in the Turks and Caicos is on East Caicos; Flamingo Hill with an elevation of 156 feet.
The Turks are separated from the Caicos Islands by the Turks Island Passage, which is a measured 2,200 m (7,200 ft) deep.
Turks and Caicos Photographs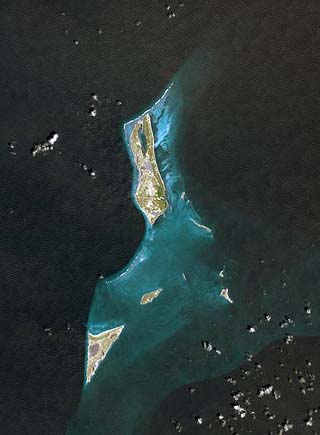 Satellite image of Grand Turk Island and Salt Cay
Countries & Territories Of The Caribbean
This page was last updated on April 7, 2017.