Antigua and Barbuda Flag: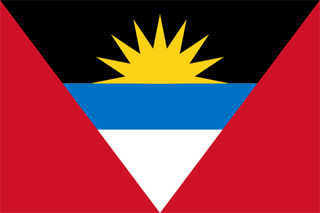 The flag of Antigua and Barbuda was officially adopted on February 27, 1967.
The sun represents the dawning of a new era, the red indicates the energy of the people, blue is hope and the black represents its African ancestry. The V shape is said to symbolize victory and the overall combination of yellow, blue and white represents the sun, sand and sea of this Caribbean island nation.
Larger Antigua and Barbuda flag

Antigua and Barbuda Coat of Arms: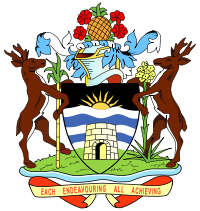 At the top of the Coat of Arms is a pineapple, a fruit for which the islands are famous. Supporting the shield are a pair of deer.

The design on the shield shows the sun, rising from a blue and white sea. The sun represents a new beginning, the black background represents the African origins of many of the nation's citizens. At the bottom of the shield, in front of the sea, sits a sugar mill.

At the bottom is a scroll containing the national motto: "Each endeavouring, all achieving".