PRAGUE
is the capital and largest city of the
Czech Republic
and fourteenth-largest city in the
European Union
. The city is divided in two by the Vltava River.
The city has been a political, cultural, and economic center of central
Europe
during its 1,100-year existence.
Founded during the Romanesque and flourishing by the Gothic and Renaissance eras, Prague was not only the capital of the Czech state, but also the seat of two Holy Roman Emperors and the one time capital of the Holy Roman Empire.
Originally, Prague was composed of five independent towns: Hradcany (the Castle Area), Malá Strana (Lesser Quarter), Staré Mesto (Old Town), Nové Mesto (New Town), and Josefov (Jewish Quarter).
Prague is home to a number of famous cultural attractions, many of which survived the violence and destruction of twentieth century Europe. Main attractions include the Prague Castle and St. Vitus Cathedral, the Charles Bridge, Old Town Square and the Jewish Quarter.
Since 1992, the extensive historic center of Prague has been included in the UNESCO list of World Heritage Sites.

Prague's medieval astronomical clock is mounted on the southern wall of Old Town City Hall in the Old Town Square. Originally installed in 1410, it is the third-oldest astronomical clock in the world and the oldest one still working.
Since the Middle Ages, Prague has been known as one of the most beautiful cities of the world. Some of its several nicknames include "the golden city", "heart of Europe", "city of a hundred spires", and "Rome of the North".
Author Franz Kafka described ghouls that lived under the streets of Prague who banged their drums, allowing strange noises to seep to the surface. He claimed these noises influenced his writing.
Did You Know? The Czech Republic is the world's largest consumer of beer. The average person drinks 45 gallons of beer annually.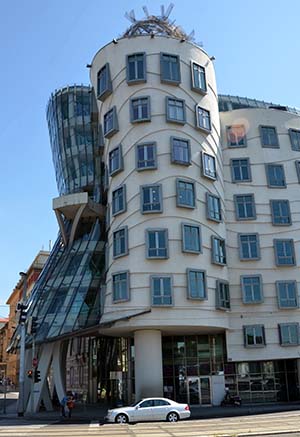 Prague's amazing "Dancing Building."