Society
Average Amount Spent On Christmas
Year-by-year consumer budgeting for Christmas holiday-related expenses in the U.S.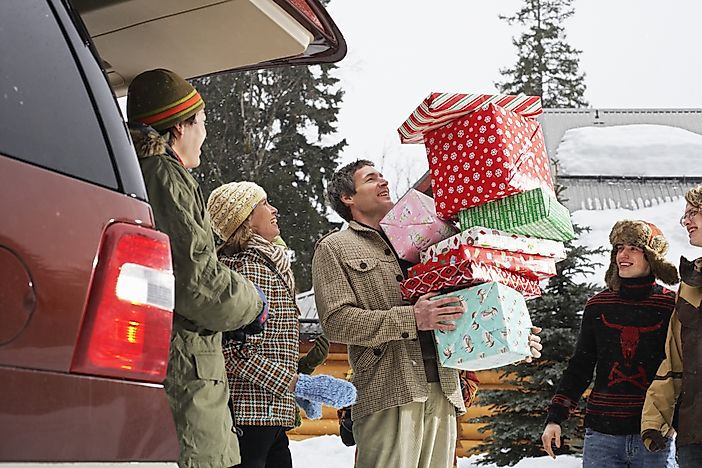 The Joy (and Pain) of Giving
In many countries around the world, Christmas season is a time filled with festivities, religious and secular alike. From exchanging gifts to sharing meals, people have found all manner of ways to express their joy and enjoy time with friends and family during this time of the year. For many, this means planning budgets as they stretch their finances during this festive season. We review a research study, performed by Gallup's world-renowned social research lab and polling institute, looking into just how much money the average American plans on spending this Christmas holiday. The findings were rather interesting, showing that, in a bit of a recent economic upswing, Americans plan to spend more money this Christmas than ever before.
Analyzing Christmas Budgeting
The methodology of this research involved 1,021 adults being interviewed over the telephone. The participants were aged 18 and older, and were sourced from each of the 50 states within the U.S.A, as well as the District of Columbia. The statistics acquired through this study were based on spending 'intentions', and the interviews were conducted between the 4th and 8th of November 2015.
According to the results of the study, Americans plan on spending around $830 on average in 2015 for various Christmas-related purposes. These numbers are up considerably from last year's average of just $720, a 15% increase. This statistic is at its highest ever since 2007, when the average Christmas spending of Americans was found to be $866. Since then, the said spending had constantly declined over subsequent years, until skyrocketing this year. It was found in the interviews that 30% all U.S. adults planned on spending $1,000 or more on gifts, raising the statistic from around 25% for the same spending level last year. One in five Americans intend to spend between $500 and $999, whereas 14% plan to spend between $250 and $499 on Christmas gifts this year. Of all those interviewed, 8% of adults claimed that they don't celebrate Christmas or otherwise don't plan on spending anything on gifts, whereas 7% were unsure as to how much they might spend this year. If the numbers of people who will not spend anything on Christmas this year are excluded from the study, the average spending of American adults on Christmas would register an all-time high of around $908.
All in all, it would seem that a more promising economic outlook will have Americans spending a good deal more on Christmas gifts this year than they have for the last several seasons, when the consumer average for such spending varied between $616 and $720.
Average Amount Spent On Christmas
View information as a:
List
Chart
| | |
| --- | --- |
| 2015 | $830.00 |
| 2014 | $720.00 |
| 2013 | $704.00 |
| 2012 | $770.00 |
| 2011 | $764.00 |
| 2010 | $714.00 |
| 2009 | $638.00 |
| 2008 | $616.00 |
| 2007 | $866.00 |
| 2006 | $826.00 |
| 2005 | $763.00 |
| 2004 | $730.00 |
| 2003 | $734.00 |
| 2002 | $690.00 |
| 2001 | $794.00 |
| 2000 | $817.00 |