St. Louis Map - St. Louis Attractions, Gateway Arch Riverfront, St. Louis Zoo, Missouri Cities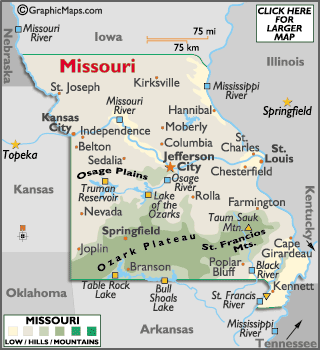 Located near the confluence of the Mississippi and Missouri Rivers, St. Louis is one of America's greenest and most modern cities.

This home of the amazing Gateway Arch, Budweiser Clydesdales and the "King of Beers" is also renowned for art galleries, science museums, over one hundred beautiful parks, and stately 18th and 19th century architecture.

Nightclubs here are filled with the rich sounds of Blues and Country Western music, and classic riverboats cruise the Mississippi River offering dinner and a show, or just a day of sightseeing fun.

St. Louis is a thriving metropolis, and a great place to raise a family as it offers more free major attractions than anywhere in the USA besides Washington DC. In short, this clean city is a great place to visit on your Missouri vacation.

ADDITIONAL MISSOURI CITY PAGES:
Both the ice cream cone and iced tea were first served at the St. Louis World's Fair in 1904.
St. Louis was the first American city to host the Olympic Games (in 1904).
Famous Missouri native writers including T.S. Eliot, Maya Angelou, Eugene Field, Yogi Berra and Vincent Price are from St. Louis.

Gateway Arch Riverfront
The most well known St. Louis landmark, the Gateway Arch Riverfront, commemorates the acquisition and settlement by the citizens of the US of all the lands west of the Mississippi River.

Standing 630 feet high, it is the tallest monument in the US. An observation area near the top of the arch, accessible by a short tram ride, offers breath-taking views across the Mississippi River and Southern Illinois.


St. Louis Zoo
Recognized as one of the top five zoos in the country, the St. Louis Zoo has both indoor and outdoor exhibits, complete with a children's petting zoo.

Managing many exotic animals from around the world, such as giant anteaters, black rhinos, hippos, cheetahs, elephants and spotted hyenas, the Zoo offers fun and excitement to last a full day or more. Another special feature is the Zooline Railroad, a small passenger train that goes round the zoo, stopping at the more popular attractions.


Anheuser-Busch Tour
The largest brewing company in the US, Anheuser-Busch, famous for introducing America's first national beer - Budweiser, began as a small brewery in St. Louis.

The tour takes visitors through the complex, and those of legal age can taste beer samples of any Anheuser-Busch products in the Hospitality Room at the end of the tour. Visitors can see beer being made in front of them from behind Plexiglas shields. Another favorite attraction is the Budweiser Clydesdales horses and their exercise field and carriage house.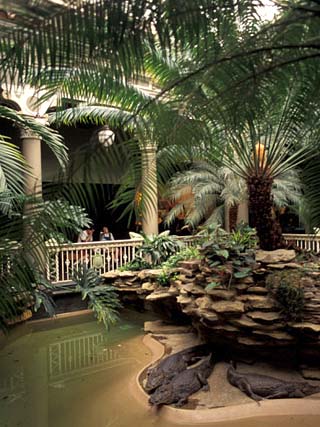 Reptile House at the St. Louis Zoo...
by Connie Ricca
Buy This at Allposters.com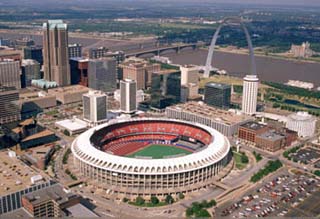 Busch Stadium...
Buy This at Allposters.com