SAINT LOUIS

Located near the confluence of the
Mississippi
and
Missouri Rivers,
St. Louis is one of America's greenest and most modern cities.
This home of the amazing Gateway Arch, Budweiser Clydesdales and the "King of Beers" is also renowned for art galleries, science museums, over one hundred beautiful parks, and stately 18th and 19th century architecture.
Nightclubs here are filled with the rich sounds of Blues and Country Western music, and classic riverboats cruise the Mississippi River offering dinner and a show, or just a day of sightseeing fun.
St. Louis is a thriving metropolis, and a great place to raise a family as it offers more free major attractions than anywhere in the USA besides
Washington DC.
In short, this clean city is a great place to visit on your
Missouri vacation.
ADDITIONAL MISSOURI CITY PAGES:
Both the ice cream cone and iced tea were first served at the St. Louis World's Fair in 1904.
St. Louis was the first American city to host the Olympic Games (in 1904).
Famous Missouri native writers including T.S. Eliot, Maya Angelou, Eugene Field, Yogi Berra and Vincent Price are from St. Louis.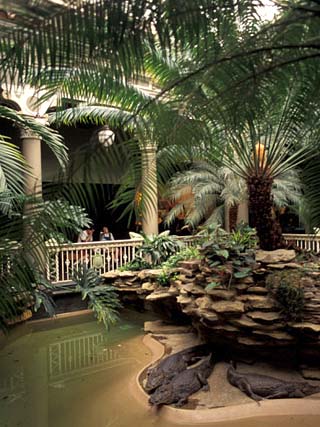 Reptile House at the St. Louis Zoo...
by Connie Ricca
Buy This at Allposters.com