Answer
Who Is Greta Thunberg?
Greta Thunberg is an environmental activist on global warming.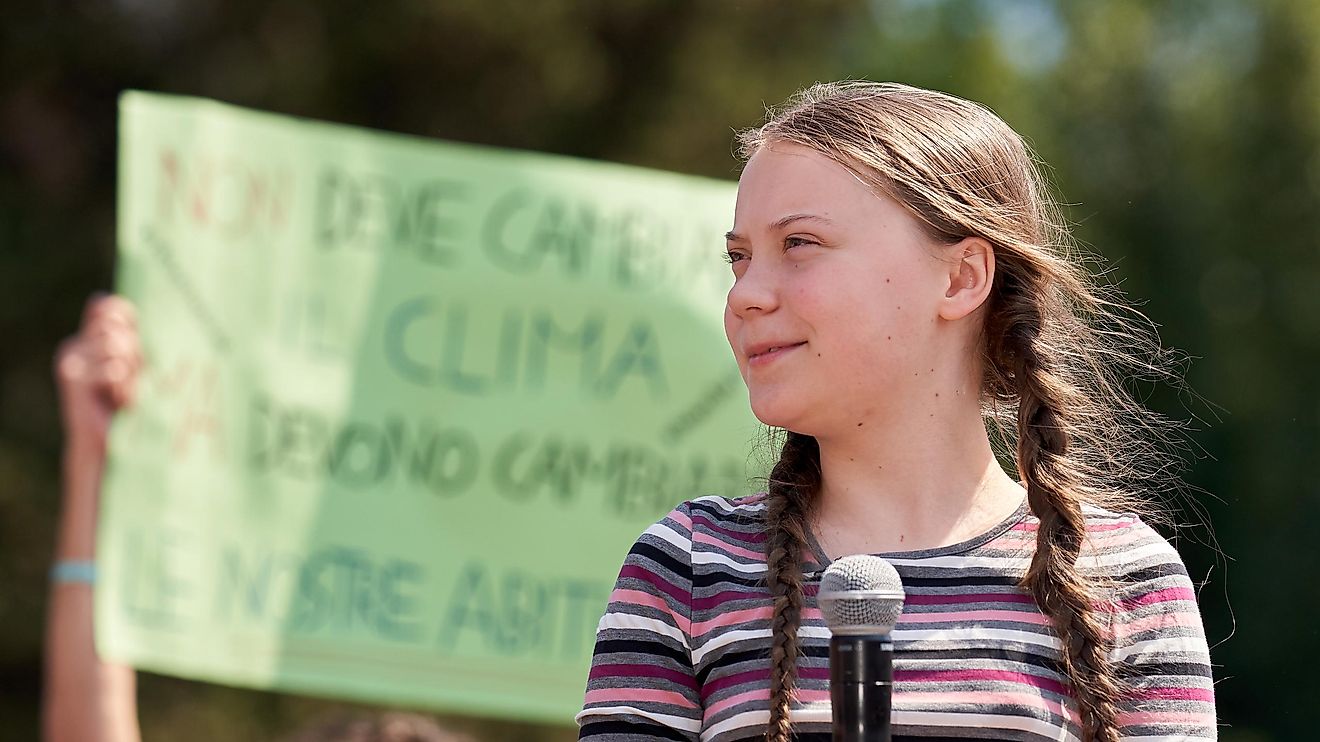 Greta Thunberg is an environmental activist on global warming whose campaign has gained global recognition. Greta is famous for her straight-forward speaking manner to assemblies and political leaders, in which she calls for immediate action to solve the climate crisis. Greta's sudden rise to global fame has made her a target for critics.
Early Life
Greta was born in Stockholm, Sweden, on January 3, 2003. Greta is the daughter of Svante Thunberg and Malena Emman. Her paternal grandfather is Olof Thunberg. Greta heard about the climate crisis for the first time when she was 8 years old and could not understand why leaders were not doing more about the problem. Greta was depressed and lost 22 pounds after she stopped eating and talking for 2 months. She was eventually diagnosed with selective mutism, OCD (obsessive-compulsive disorder), and Asperger's. She struggled with depression for about 4 years before she started her school strikes.
Greta challenged her family to lower their carbon footprint and its impact on their environment by giving up flying, up-cycling, and becoming vegans. Greta showed them data and graphs, and when it did not work, she told them that they were stealing her future. Greta claims that the fact that her family changed their lifestyles gave her hope and made her believe that she can actually make a difference in the world.
Activism
Greta started her public speeches and school climate strikes in 2018 which transformed her into an internationally known climate activist. Greta told Goodman Amy in an interview that she got her idea of the strikes from the US school shootings of 2018 that resulted in the youth not going to school. The students went ahead and planned the "March For Our Lives" in support of gun control. Greta won a climate change essay competition that was organized by Svenska Dagbladet, a Swedish newspaper in May 2018. After her essay was published, she was invited to join the Fossil-Free Dalsland, a group that wanted to do something about climate change. During one of their meetings, Greta proposed that students can strike for the climate crisis. She tried to persuade other people, but she was not successful, therefore, she decided to do it alone.
Greta decided to strike from August 20, 2018, until September 9, 2018. Her strike started after the wildfires and heatwaves during the country's hottest summer in over 262 years. Greta protested by sitting outside the parliament for 3 weeks during school hours. She demanded that the government should lower carbon emissions in the country as per the Paris-Agreement. Soon other teens joined her, and together they created the School Climate Strike Movement. After her speech at the 2018 UN Climate-Change Conference, students began striking every Friday all over the world. There were several coordinated multi-city strikes in 2019 that involved over 1 million students.
Greta was featured in Time Magazine in May 2019, which referred to her as the "next-generation leader." The school-strike movement was featured in a Vice documentary. Greta has received numerous awards and honors like the honorary fellowship from RSGS (Royal-Scottish-Geographical-Society).
This page was last updated on February 11, 2020.
Citations
Your MLA Citation
Your APA Citation
Your Chicago Citation
Your Harvard Citation
Remember to italicize the title of this article in your Harvard citation.