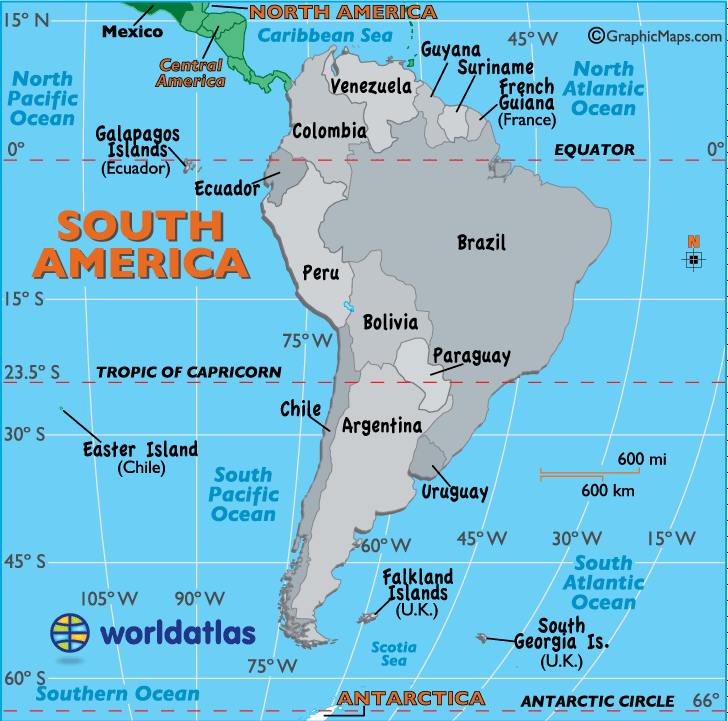 To describe weather conditions across the continent of South America in specific terms is difficult in such a small space, so we'll opt for general terms.
Conditions are hot, humid and wet (year round) in the coastal regions of Colombia and Venezuela, and along the Equator and in the massive Amazon. In the far north, trade winds bring much-needed cooling relief to the coastal areas of Guyana and Suriname.
In the northeastern areas of Brazil - the hottest region in the country - summer temperatures exceeding 100°F are somewhat common. In the far south, conditions are subtropical, with some chilly mornings, fall and winter.
Atop the Tropic of Capricorn (northern Argentina and Paraguay) daily high temperatures are exceptionally warm in summer, with only slight variations in winter. Rainfall is light and concentrated ...primarily in the summer.
The coastal regions of Chile are generally dry and hot in summer, while fall brings cooler temperatures followed by heavy rains and mountain snowfall in winter.
To the south of the Tropic of Capricorn, Argentina's weather ranges from subtropical (mild) conditions in the north (Buenos Aires), to sub arctic status in the far southern reaches of Patagonia. The higher elevations of the Andes in both Argentina and Chile are very cold, with frequent snow in the southern peaks.
For detailed weather in any South America country or territory, select the destination of choice, or review these current weather conditions in selected cities.
Note: The seasons south of the Equator are just the opposite of those north of the Equator; (Spring) October to December; (Summer) January to March; (Fall) April to June, (Winter) July through September.
A Few Current Weather Conditions Across South America:
-
This page was last updated on September 19, 2016.