Venezuela's Information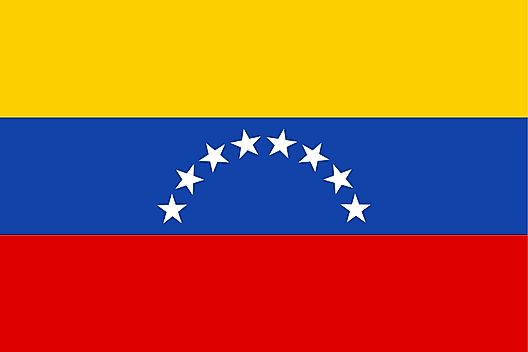 | | |
| --- | --- |
| Land Area | 882,050 km2 |
| Water Area | 30,000 km2 |
| Total Area | 912,050km2 (#32) |
| Population | 30,912,302 (#42) |
| Population Density | 35.05/km2 |
| Government Type | Federal Presidential Republic |
| GDP (PPP) | $469.00 Billion |
| GDP Per Capita | $15,100 |
| Currency | Bolivar (VEF) |
| Largest Cities | |
People listed are almost always native to the country. We do (on occasion) include those that have either lived within the country for most of their adult life, or have made a significant contribution to the country in their personal endeavors.
I - L
Mario Briceno Iragorry intellectual, cultural analyst
Cesa Izturis baseball player
Alfredo Jahn civil engineer, botanist, geographer
Marcos Perez Jimenez former president
Hany Kauam musician, singer
Juan Jose Landaeta concert pianist
Wolfgang Larrazabal former president
Antonio Lauro composer, guitartist
Adriano Gonzalez Leon poet, author
Juan Liscano poet
Anselmo Lopez bandola performer
Angel Custodio Loyola singer
Rafael Arraiz Lucca poet
M
Jacqueline Aguilera Marcano Miss World 1995
Cristobal Mendoza first president
Guillermo Meneses author, journalist historian, essayist
Yucef Merhi artist
Arturo Michelena artist
Francisco de Miranda war of independence leader
Jose Gregorio Monagas hero war of independence, former president
Jose Tadeo Monagas hero war of independence, former president
Eugenio Montejo poet
Mariano Montilla Major General of Army war of independence
Humberto Fernandez Moran inventor of the diamond scalpel
Guillermo Moron historian, author
Alexander Munoz boxer
N - R
Moises Naim editor, author
Americo Negrette physician
Juan Manuel Cajigal y Odoardo mathematician
Luis R. Oramas linguist, anthropologist, historian
Alirio Oramus artist
Juan Oropeza author
Alejandro Otero artist
Jose Antonio Paez war of independence leader, former president
Richard Paez coach national soccer team
Lorenzo Parra boxer
Caracciolo Parra Perez historian, diplomat
Carlos Andres Perez former president
Teodoro Petkoff former guerrilla fighter, cabinet minister, journalist
Chucho Ramos baseball player
L. Rafael Reif provost of MIT, educator
Jose Rujano cyclist
S
Agustin Salas composer, singer
Johan Santana baseball player
Manny Sarmiento baseball player
Giovanni Savarese soccer player
Luis Sojo baseball player
Tomas Straka historian
Antonio Jose de Sucre war of independence leader
Jimy Szymanski tennis player
T - V
Fina Torres filmmaker
Oscar Torres basketball player
Cesar Tovar baseball player
Martin Tovar y Tovar artist
Manny Trillo baseball player
Ugueth Urbina baseball player
Orlando Urdaneta actor
Rafael Urdaneta hero war of independence
Edwin Valero boxer
Patricia Velasquez actress, model
Saul Vera bandola player, composer
Yajaira Vera Miss Globe International 1988
Rafael Vidal swimmer
Ernesto Jose Viso race car driver
Omar Vizquel baseball player
W - Z
Gerry Weil jazz pianist, composer
Doris Wells actress
Aida Yespica model
Oscar Yespica journalist, author
Carlos Zambrano baseball player
Domingo Maza Zavala economist
Slavko Zupcic author
Is a famous person missing from this page?
Submit your Famous Venezuelan
Venezuela Trivia
Which Is The Largest Ethnic Group In Venezuela?
Venezuela has an ethnically diverse population because of its colorful history and the peoples that have resided in the country over the centuries. People of mixed European, Amerindian, and African descent constitute over half of the country's population. They are collectively termed "Mestizos". Those of European, Black African and Amerindian descent constitute the rest of the population.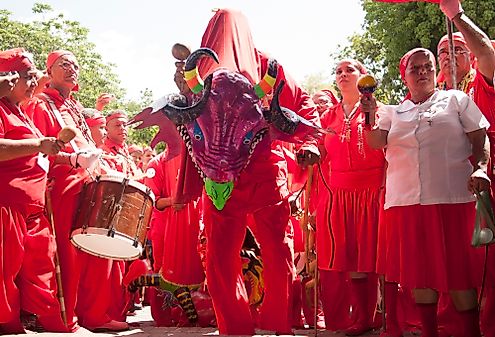 Ethnic Groups In Venezuela
Countries Of South America