New Zealand's Information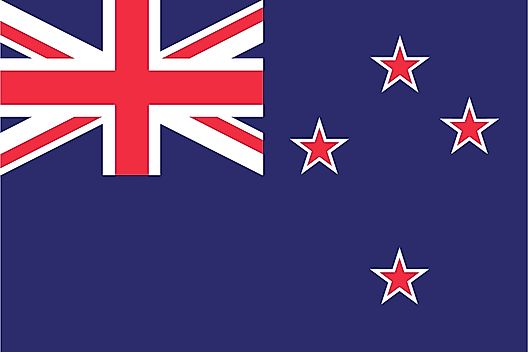 | | |
| --- | --- |
| Land Area | 264,537 km2 |
| Water Area | 4,301 km2 |
| Total Area | 268,838km2 (#75) |
| Population | 4,474,549 (#126) |
| Population Density | 16.91/km2 |
| Government Type | Parliamentary Democracy (New Zealand Parliament) Under A Constitutional Monarchy; A Commonwealth Realm |
| GDP (PPP) | $175.00 Billion |
| GDP Per Capita | $37,100 |
| Currency | Dollar (NZD) |
| Largest Cities | |
Climate:
The overall climate of New Zealand is influenced by two main geographic features: the mountains and the ocean.
Although its northern reaches enjoy a temperate climate, weather can change quickly across the country as weather fronts and tropical cyclones travel through this region of the South Pacific frequently.
New Zealand is located in the Southern Hemisphere, so seasons are opposite the Northern Hemisphere. The warmest months are December, January, February; the coldest are June, July and August.
Temperatures are generally warmer in the north than in the south, however, the climate differences prove to be minuscule (most of the time).
In the summer months (south to north), the average high temps are in the low 70's F (21°C), while in the winter months the average highs are near 40°F (4°C), and again, running slightly higher in the north.
The far-northern reaches of North Island experience sub-tropical weather throughout the year and freezing conditions are quite rare.
The fall months, March to May, are a bit cooler than summer, but for most of the time, the weather is refreshing, with clear, crisp air.
Moderately high rainfall is common (25 to 59 inches per year), but so are many hours of sunshine throughout the country. In fact, many places in New Zealand receive over 2,000 hours of sunshine annually.
Current Weather Conditions:
In these selected cities...
Seasonal Temperature Averages
AUCKLAND
HIGH TEMPERATURES ( Fahrenheit/Celsius )
(Jan) 72/22 (Feb) 74/23 (Mar) 73/22 (Apr) 67/19
(May) 64/17 (Jun) 58/14 (Jul) 58/14 (Aug) 59/14
(Sep) 61/16 (Oct) 62/16 (Nov) 65/18 (Dec) 71/21
LOW TEMPERATURES ( Fahrenheit/Celsius )
(Jan) 61/15 (Feb) 60/15 (Mar) 60/15 (Apr) 54/11
(May) 53/11 (Jun) 48/9 (Jul) 47/8 (Aug) 49/9
(Sep) 49/9 (Oct) 52/10 (Nov) 54/11 (Dec) 59/15
DUNEDIN
HIGH TEMPERATURES ( Fahrenheit/Celsius )
(Jan) 65/18 (Feb) 66/19 (Mar) 69/21 (Apr) 57/14
(May) 60/16 (Jun) 47/8 (Jul) 48/9 (Aug) 53/12
(Sep) 57/14 (Oct) 58/14 (Nov) 60/16 (Dec) 67/19
LOW TEMPERATURES ( Fahrenheit/Celsius )
(Jan) 49/10 (Feb) 49/9 (Mar) 48/9 (Apr) 41/5
(May) 39/4 (Jun) 30/-1 (Jul) 31/0 (Aug) 35/2
(Sep) 36/2 (Oct) 41/5 (Nov) 44/7 (Dec) 50/10
This page was last updated on April 7, 2017.