West Virginia Description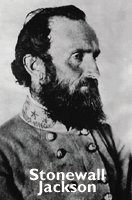 West Virginia suffered little in the war when compared to the death and destruction in Pennsylvania and Virginia, but because of the strategic location of Harper's Ferry, the war brought this West Virginia city unwanted notoriety.
Union and Confederate troops moved through Harpers Ferry frequently, and the town changed hands more than a dozen times. In 1862, General Stonewall Jackson's capture of Harpers Ferry and 12,000 Union troops was the largest surrender of Union troops during the entire Civil War.
For many years after war's end, partisan feelings ran high; those that sided with the Confederacy were chastised, and amendments to the United States Constitution (all in part) officially abolishing and prohibiting slavery were contentious in many circles.
West Virginia was rich in mineral resources, including massive salt deposits; that commodity would provide financial returns during the war's costly reconstruction period, and for many years to come. However, West Virginia's real economic treasure (coal) would eventually transform the economics of the state, and fuel the energy demands of America's growing industrial base.
Driven by new mining techniques and investment capital, many coal mines were in full operation by 1900, including the legendary ones in and around Bluefield on West Virginia's far southern border. The extraordinary expansion of America's railroads transported that lucrative product to shipping ports along the Atlantic Ocean, and as far north as the Great Lakes.

As demand for coal increased during World War I, the railroads were unable to carry enough to meet that demand, and the U.S. Government stepped in. Locks and dams were built along the Ohio River so river barges could help transport coal to the marketplace.
Around the time of World War II, the state began building a better highway system and coal mining brought thousands of new jobs to West Virginia. Inevitably, labor difficulties and tragic mining disasters made front page news. Even today, mining safety and ecological concerns are major challenges in a state where coal production remains a major industry.
Chemicals, iron, tin, steel, and nickel are all produced in West Virginia factories, and the state is famous for its glass and pottery production. In addition, West Virginia's forests provide abundant lumber and wood products.
Tourism is a major industry in West Virginia, and visitors flock to its rugged, green mountain areas and numerous state parks. In fact, because of its many fast-flowing rivers, "The Mountain State" is considered one of planet's (best) white water rafting venues.
West Virginians are justifiable proud of their history, cultural heritage and the state's natural beauty. Certainly a visit to this inspiring state will justify a postcard or two.
West Virginia Cities, Counties & Area Codes
This page was last updated on April 7, 2017.