Virginia Description
Two-thirds of the colonists survived, and over the next twenty-some years the local power struggle continued. After years of Indian losses, the Powhatan leader, Chief Opechancanough, was tricked into capture; then murdered in prison. The Colonists continued to grow stronger and the remaining Powhatan tribes were greatly subdued.
In 1624, England's King revoked the Virginia Company's charter and the colony was transferred to royal authority as a crown colony; a governor was appointed and further inland expansion (north and west) began aggressively.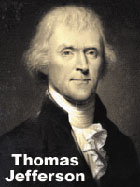 Over the next century the struggles of the Virginia Colony continued; land holdings escalated; population grew; disease, hurricanes and on-going Indian massacres killed hundreds; slave holdings multiplied; Jamestown statehouse was burned, rebuilt, then burned again; new cities and educational institutions were founded; governors came - governors went; the capital of the colony moved to Williamsburg; religious groups and factions increased their influence, and through it all, an accomplished, and now experienced group of leaders developed, and the spirit of independence flourished.
By the mid-18th century Virginia's population exceeded 100,000, and as the colony grew in strength and political maturity, Thomas Jefferson, George Washington, Patrick Henry and others were now poised to play major roles in the future of Virginia and a new country called America.
During this time frame, Great Britain and France continued to fight for dominance in North America. The subsequent French and Indian War (1754-1763) was the last, and conclusive battle. The British were victorious, but plunged into war debt. England's King, in a creative way to pay off that debt, decided to raise tax monies from his new colonies, and that decision was the genesis of the American Revolutionary War.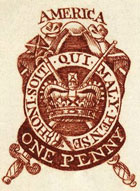 Especially offended by the Stamp Act, powerful land owners, merchants and political leaders in Virginia, and all of England's colonies rebelled. In June of 1776, a committee of the Second Continental Congress consisting of John Adams of Massachusetts, Benjamin Franklin of Pennsylvania, Thomas Jefferson of Virginia, Robert R. Livingston of New York, and Roger Sherman of Connecticut (the "Committee of Five") was formed to draft a declaration of independence from Britain.
Church bells rang out across Philadelphia on July 4, 1776.... signaling that the Declaration of Independence was approved and officially adopted and signed in Philadelphia's Independence Hall. 56 men representing varied factions throughout the colonies bravely signed that document, including Thomas Jefferson (its principal author) and 6 others from Virginia.
Throughout the bloody Revolutionary War, the British utilized their naval superiority to capture and occupy coastal cities, but control of the rural areas (where most of the population lived) proved daunting, and difficult. In Virginia, its militia and ordinary citizens fought the British with an unwavering desire for freedom.
After a series of inspiring American victories, France signed treaties with America in 1778, and declared war on Britain, its longtime enemy. The French naval involvement proved decisive, as the British army finally surrendered at Yorktown, Virginia, in 1781 to the combined French and American forces under the command of Virginian, General George Washington.
At the end of the Revolutionary War, the states joined together, under the Articles of Confederation - a de facto form of government. As the United States Constitution was being drafted, a "Bill of Rights" was proposed. And because of that, a group led by George Mason and Patrick Henry opposed ratification of that new Constitution.
Virginia Cities, Counties & Area Codes
This page was last updated on November 21, 2017.