Oregon Description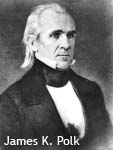 President James K. Polk campaigned in 1844 under the slogan "54-40 or fight, "contending that the northern border of the US territory should be at the southern edge of the Russian territory at latitude 54°40". The dispute was finally settled diplomatically in 1846 with the Treaty of Oregon and the northern border was set at the 49th parallel - the modern border between Canada and the United States.
The Oregon Country was made a U.S. Territory in 1848 and the territorial government met in 1849 in Oregon City. In 1853 Washington Territory was created north of the Columbia River. Oregon was granted statehood in 1859 as the 33rd state, with the capital established in Salem.
The railroads, which were built in the 1870s, allowed the agricultural economy a way to transport products without direct water access.
Oregon Landscape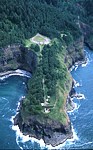 Located on the Pacific Coast, with Washington to the north, California to the south, Nevada and Idaho to the east, Oregon is a vast land of stunning sceneries. The Pacific coastline offers awesome rocky windswept beaches; the Cascade Mountain Range is home to dense evergreen rainforests and Hawaiian-style volcanoes, while the immense Douglas firs and Redwoods along the rainy Oregon coast reflect a natural beauty that's hard to put into words.
The Beaver State enjoys a mild climate, heavily influenced by the Pacific Ocean, especially in the western part of the state. Periods of extreme hot and cold are more common east of the mountains, with the Alvord Desert getting very small amounts of annual rainfall.
Oregonians are widely-respected for their environmental concerns as they have passed many laws to protect the land and the ocean.
Oregon Today
Oregon's economy is as diverse as its landscapes. Today lumber, wood and paper products are Oregon's biggest industries. It also has one of the world's largest salmon fishing and canning industries. Agricultural products include peppermint, berries, hops, and vegetables. The cities and Oregon coast are home to a vibrant hi-tech industry.
The Willamette Valley is Oregon's breadbasket and wine production has become a significant industry in the state. The world headquarters of Nike, Inc. are located here two of the largest mail order companies in the country. Crater Lake National Park, Mount Hood and Portland are the state's major tourist attractions.
Framed by breathtaking vistas of Mount Hood, Portland, Oregon's largest city, is known as "The City of Roses," because its climate has proven ideal for rose cultivation and the city has many stunning public rose gardens.
Oregon famous people include founder of Nike, Bill Bowerman, actor River Phoenix, aviator and World War II fighter ace Marion Carl and cartoonist Matt Groening of The Simpsons fame. The very diversity and beauty of this magnificent state is what makes Oregon a place to remember.
Oregon Cities, Counties & Area Codes
This page was last updated on April 7, 2017.