Ohio Description
During the War of 1812, fought mainly over trade restriction imposed on the United States by Great Britain, Ohio played an important role. During that war the United States Navy engaged Great Britain's Royal Navy in the Battle of Lake Erie. Fought in the Bass Islands to the north of Sandusky, the U.S. won a convincing victory, and thus controlled the lake for the duration.
In the early 19th century Ohio's transportation system of roads and canals began to reach beyond its established river-traffic routes. New York's Erie Canal connected the Great Lakes with the Atlantic Ocean, giving Ohio a road to the marketplaces of the world. In short order new railroads crossed the state, and industrial expansion soon followed.
During America's Civil War (1861-1865), the State of Ohio played a key role in providing troops, military officers, and supplies to the Union army. As nearly 320,000 of its men marched off to war, Ohio was spared the bloody battles witnessed by other states, and yet, 7,000 of its soldiers were killed in action.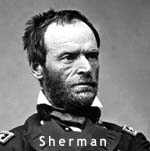 Of both political and military note, several of the war's most influential generals were Ohio natives, including Ulysses S. Grant, William T. Sherman, and Philip H. Sheridan. In addition to Ulysses S, Grant, four (Ohio-born) Civil War officers would later serve as the President of the United States; James A. Garfield, Benjamin Harrison, Rutherford B. Hayes and William McKinley.
And speaking of Presidents, William Henry Harrison, America's 9th President, although born in Virginia - lived in Ohio when elected. In the early 20th century, the state's political influence expanded as Ohioans William Howard Taft, and Warren G. Harding both served as President of the United States.
In the late 1800's, Ohio's industrial base developed rapidly due to the state's central location, extensive river networks and access to the Great Lakes. Automobile parts, coal, iron ore, steel and petroleum products soon moved through port cities fronting Lake Erie, and Cleveland and Toledo exploded into prominence.
Ohio in the 21st Century: Challenges, Milestones, Rebirth
With manufacturing giants like the United States Steel Corporation, Goodrich Tire and Rubber and Standard Oil based in Ohio, the state's economy was crushed by the Great Depression that began in 1929. Adding insult to injury, labor strikes (especially in the steel industry) further crippled the state.

Like most other U.S. States, World War II also revived the prosperity and pride of Ohio. To support the war effort manufacturing industries opened factories across the state, thousands of jobs became available, and Ohio was once again in a prominent position.
Much of that prosperity ended in the latter part of the 20th century as its northern industrial centers all but closed; the massive steel industry shutdown plant after plant; the worldwide market for coal faded away, and unemployment reached record levels.
Ohio Cities, Counties & Area Codes
This page was last updated on April 7, 2017.