Boston Massachusetts Photos - Massachusetts Map, Boston Ma, Massachusetts Landforms Attractions History
Boston, Massachusetts
Locator Map

Boston is the largest city in New England and the capital of the state of Massachusetts. One of the most historic, influential and oldest cities in America, Boston is home to a number of cultural opportunities, historical sites and a rich variety of the performing arts.

Founded in 1630 by Puritan colonists from England, Boston was the site of Paul Revere's famous ride, the Boston Tea Party and many other events that led to the founding of the United States of America, and it still retains the flavor of those colonial days.

Today this home of Harvard, B.U. and M.I.T. has become a center for higher education and is regarded as the unofficial "Capital of New England".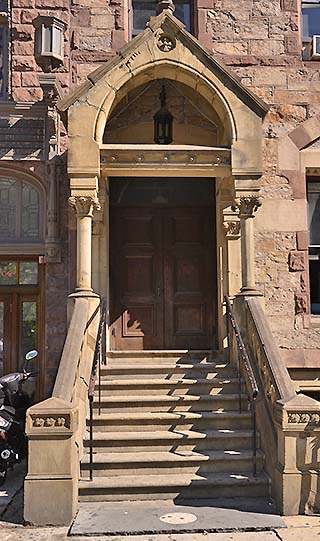 Classic architecture is common across the city.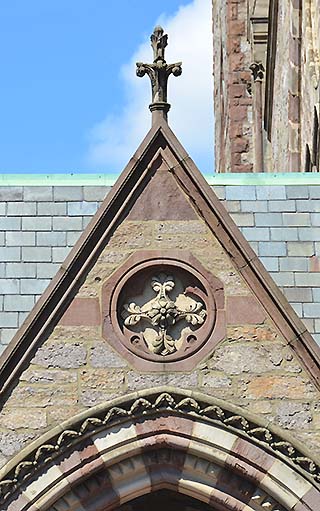 Cross atop a local church in Boston.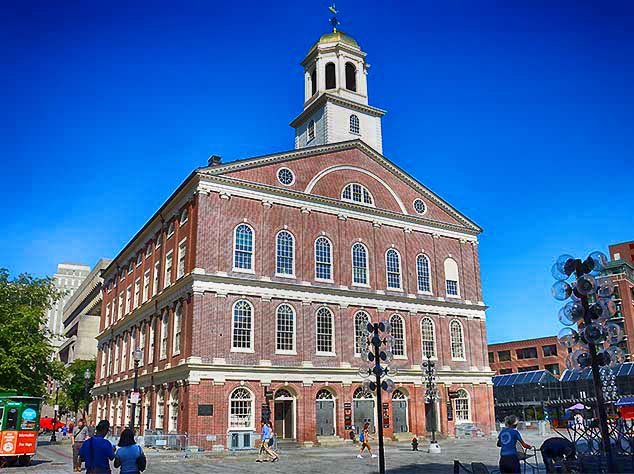 Faneuil Hall in Boston has been a marketplace and a meeting hall since 1742. It was the site of several speeches by Samuel Adams, James Otis, and others encouraging independence from Great Britain, and is now part of Boston National Historical Park and a well-known stop on the Freedom Trail. In 2008, it was rated number 4 in America's 25 Most Visited Tourist Sites by Forbes Traveler.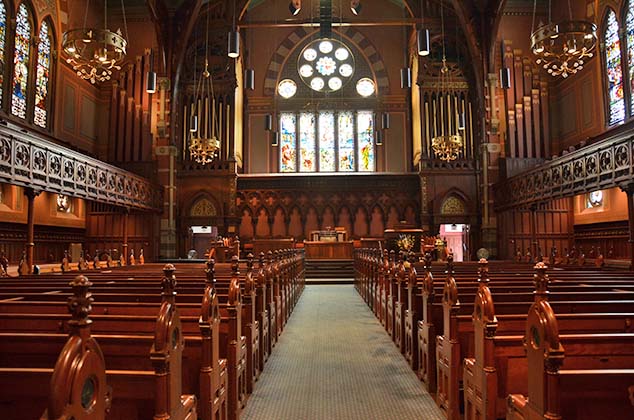 Old South Church was designed in the Gothic Revival style by Charles Amos Cummings and Willard T. Sears and was completed in 1873. It is home to one of the older religious communities in the United States and is a U.S. National Historic Landmark.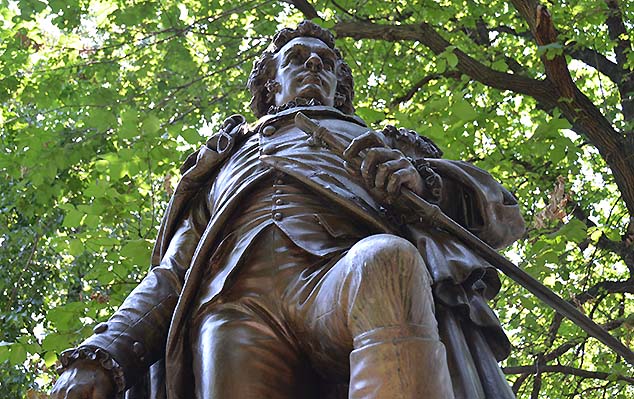 John Glover was an American fisherman, merchant, and military leader from Marblehead, Massachusetts, who served as a Brigadier General in the Continental Army during the American Revolutionary War. This statue of Glover stands in Boston Common.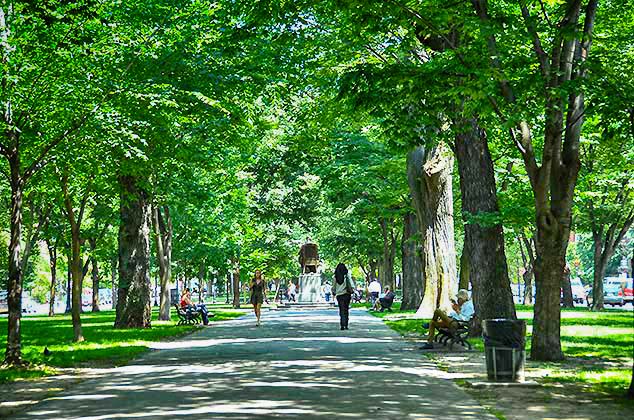 Boston Common is a central public park in Boston, Massachusetts. Dating from 1634, it is the oldest city park in the United States. The Boston Common consists of 50 acres (20 ha) and is a popular respite for locals and visitors alike.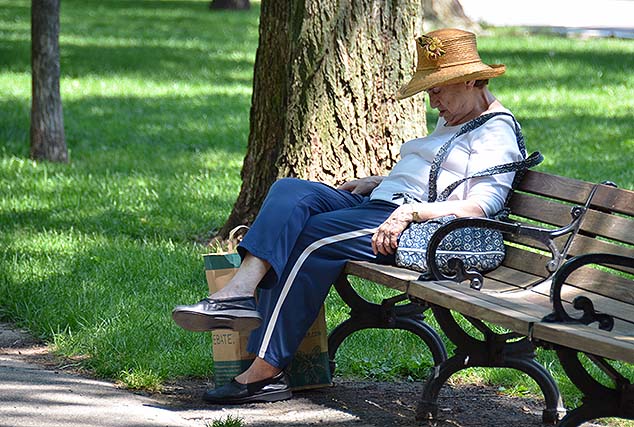 Boston Common hosts formal or informal gatherings. Events such as concerts, protests, softball games, and ice skating (on Frog Pond) often take place in the park. Famous individuals such as Martin Luther King Jr. and Pope John Paul II have made speeches there. Judy Garland gave her largest concert ever (100,000+) on the Common, on August 31, 1967. Boston Common's purpose has changed over the years, but for many, it's a quiet place just to relax.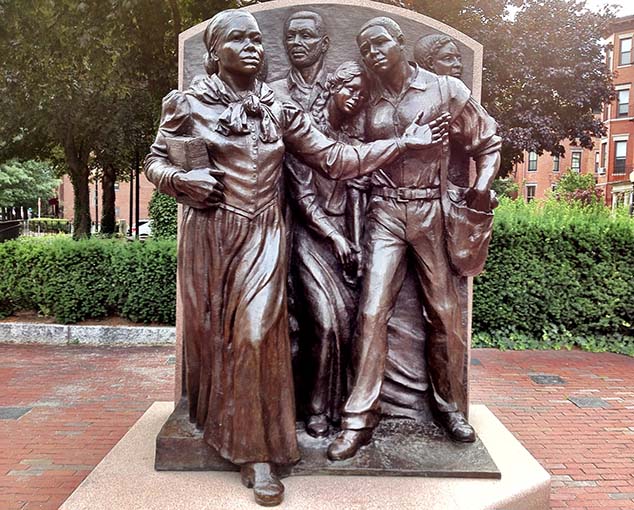 This is a statue of Harriet Tubman standing in Boston. She was an African-American abolitionist, humanitarian, and Union spy during the American Civil War. After escaping from slavery, into which she was born, she made thirteen missions to rescue more than 70 slaves using the network of antislavery activists and safe houses known as the Underground Railroad, and some were located in Boston. She later helped John Brown recruit men for his raid on Harpers Ferry, and in the post-war era struggled for women's suffrage. Quite a woman to say the least.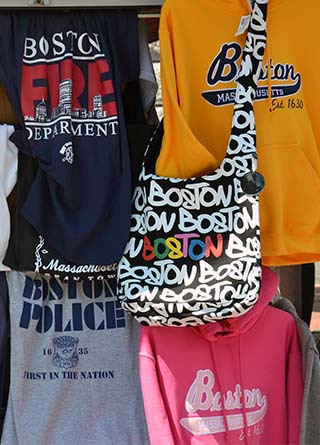 Shirts for sale in Quincy Market, Boston.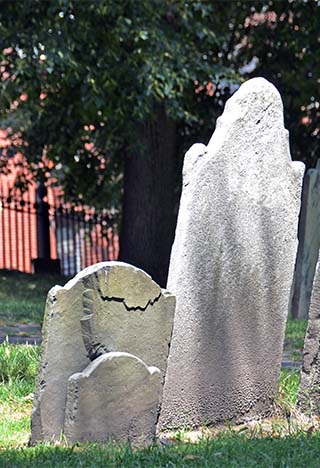 A few of the hundreds of grave stone inside the Copp's Hill Burying Ground in North Boston.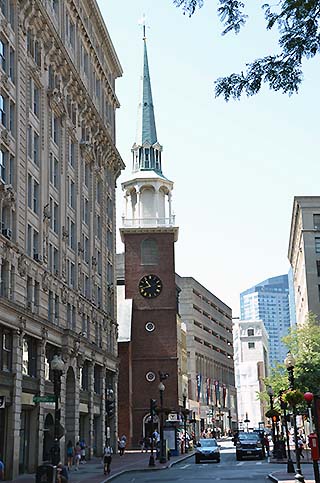 The Old South Meeting House (built 1729), in Boston, Massachusetts, gained fame as the organizing point for the Boston Tea Party on December 16, 1773, when 5,000 colonists gathered at the Meeting House, the largest building in Boston at the time.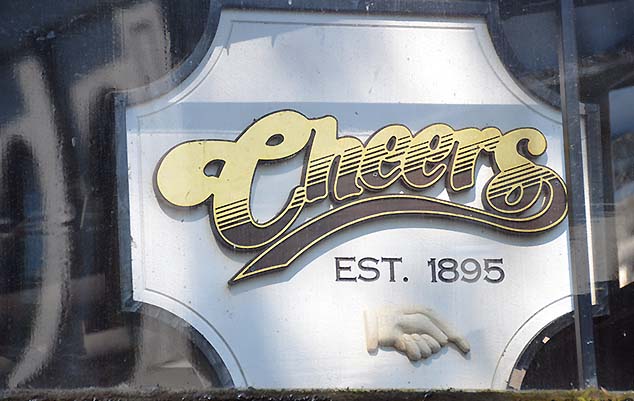 Cheers Beacon Hill, formerly the Bull & Finch Pub, is a bar/restaurant located on Beacon Street in the Beacon Hill neighborhood of Boston, Massachusetts, across from the Boston Public Garden. Founded in 1969 as the Bull & Finch Pub, the bar is known internationally for the NBC television sitcom "Cheers" which ran from 1982 to 1993.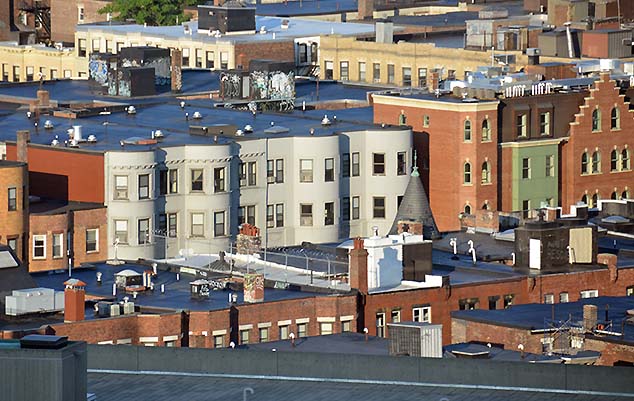 The brownstone is a beautiful & historic type of architecture that is very common in Boston. Many of the brownstones in Boston were built in the 1800's and were once single-family homes for Boston's wealthiest of residents. The brownstones in Boston are most common in the Back Bay, South End, & Beacon Hill.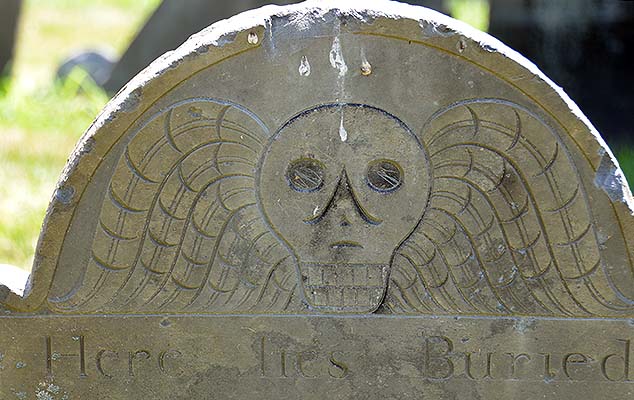 The earliest gravestones in Boston's burying grounds were simple, roughly hewn "greenstone" markers. Some feature a seventeenth-century grave marker's "death's head," a non-religious symbol often with wings and/or crossed bones, was a stylized skull. Please excuse the bird droppings.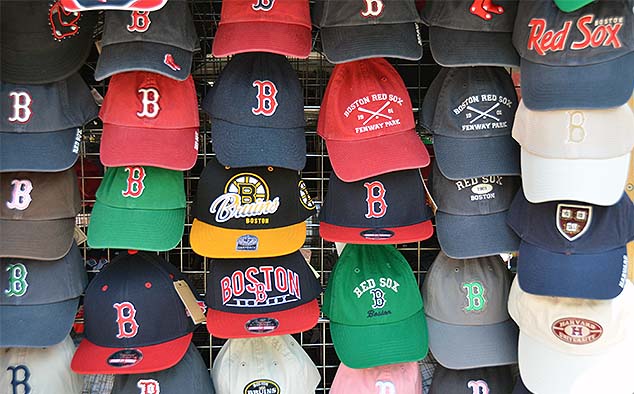 Bostom sport team hats are popular with locals and tourist alike. These were part of a much larger display in Quincy Market.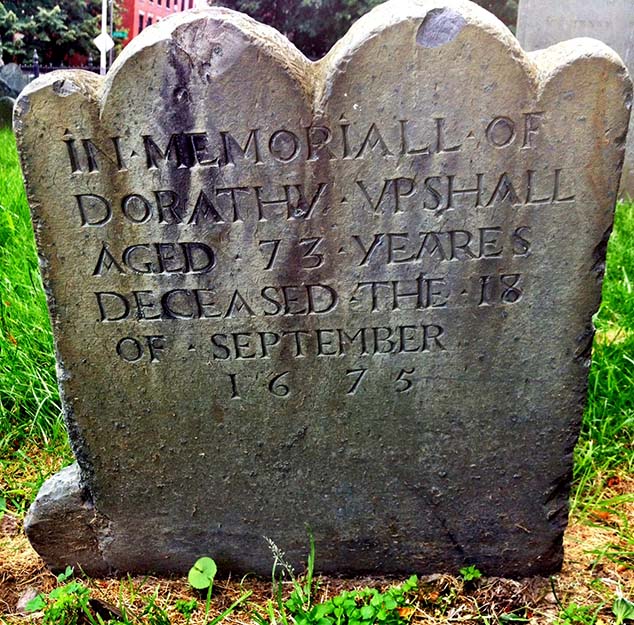 Inside the Copp's Hill Burying Ground in North Boston, Massachussets, many of the early settlers to the "New World" are buried. This woman died in 1675, a century before the American Revolution. May she rest in peace.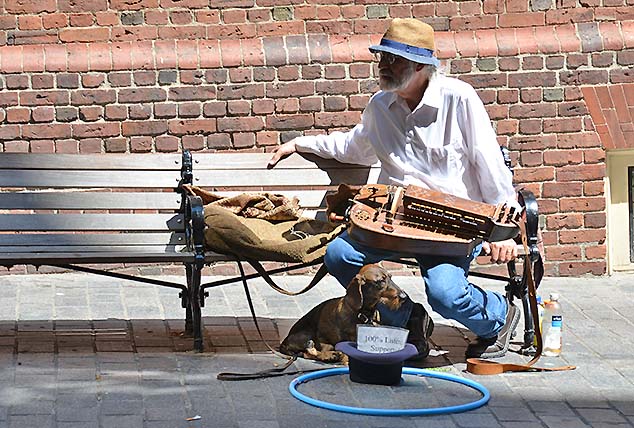 Like all large cities across the planet street entertainers ae commonly seen, and Boston is no exception. This man and his dog were both looking for customers to entertain near Fanueil Hall.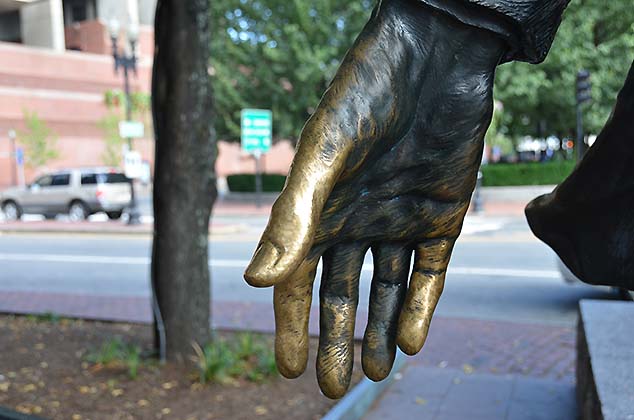 Standing near Faneuil Hall in Boston stands a 10-foot bronze statue of former mayor Kevin White. This is one of the statue's hands, and as you can see, the hand has been shaken a few times.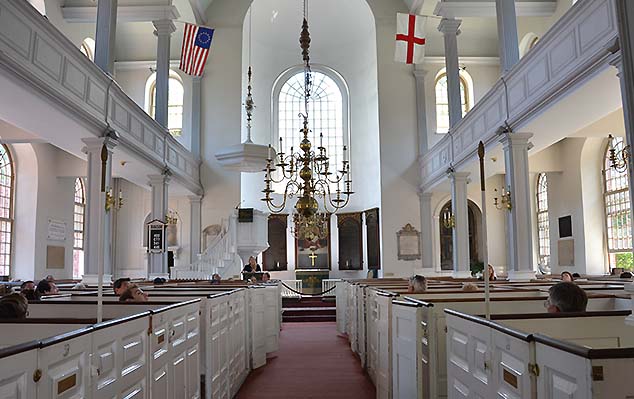 Old North Church in the North End of Boston, is the location from which the famous "One if by land, and two if by sea" signal is said to have been sent. This phrase is related to Paul Revere's midnight ride, of April 18, 1775, which preceded the Battles of Lexington and Concord during the American Revolution. This is a view of its famous sanctuary.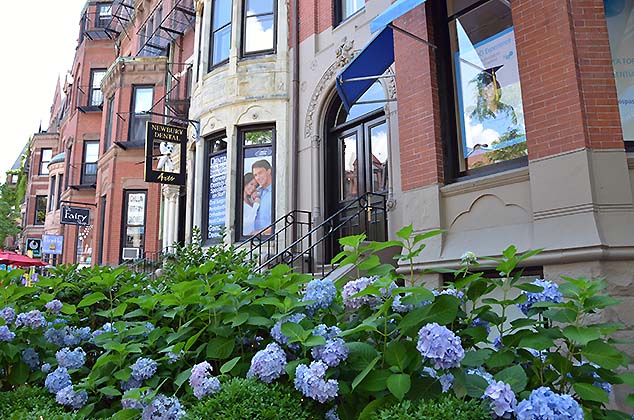 Boston's Back Bay is steeped in history. Its streets are some of many in Boston that are lined with one of the city's most iconic architectural structures, the brownstone.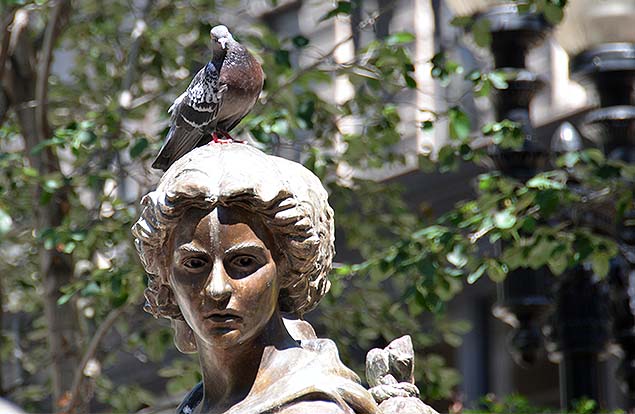 I couldn't resist taking this picture in downtown Boston. Should it be entitled, "Are you lookin at us," or maybe the messy pigeon should be saying, "I didn't do it."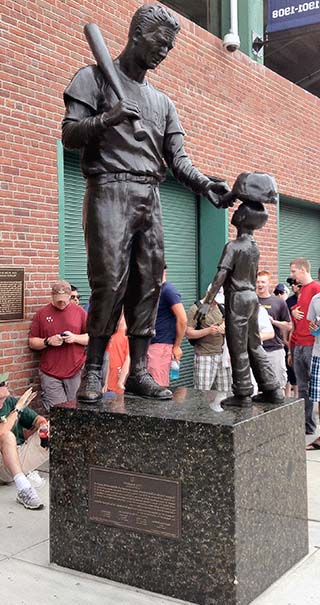 One April 16, 2004, the Red Sox unveiled the Ted Williams Jimmy Fund statue outside the Gate B entrance to Fenway Park. Crafted by sculptor Franc Talarico, the 1200-pound, eight-and-a-half foot tall statue depicts Williams placing his hat upon the head of a young boy suffering with cancer. it is a testament to the half-century of public appeals the late Hall of Famer made on behalf of Dana-Farber Cancer Institute and its Jimmy Fund — the official charity of the Red Sox.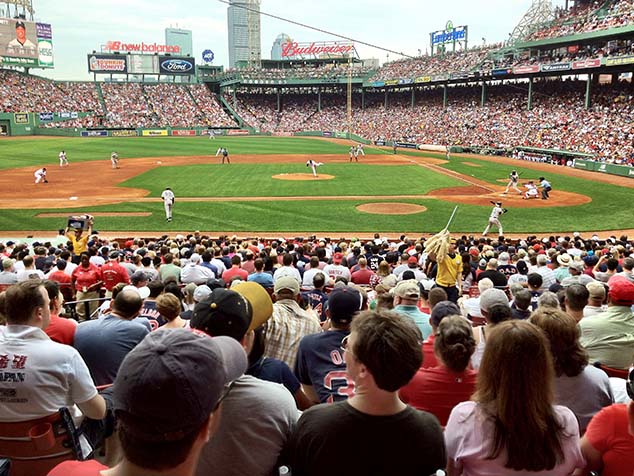 A sellout crowd was in attendance at Fenway Park, Boston, on July 7, 2012 as the Boston Red Sox played the New York Yankees in the first game of a four game series; a game that the Yankees won.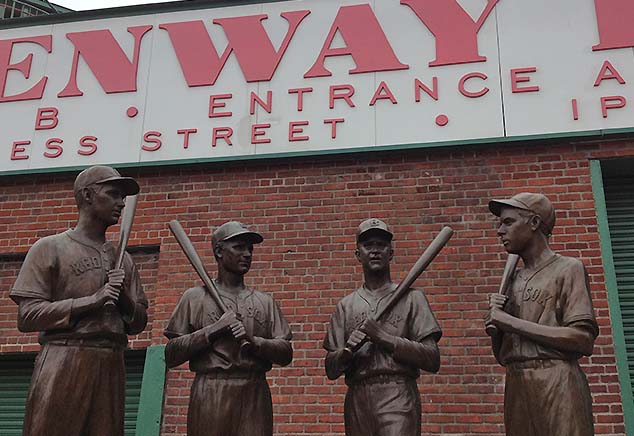 The decades-long friendship of Red Sox greats Ted Williams, Bobby Doerr, Dom DiMaggio and Johnny Pesky was immortalized in David Halberstam's classic book, "The Teammates: Portrait of a Friendship." Those friends are now on display at Fenway Park in a classic sculpture by Antonio Tobias Mendez;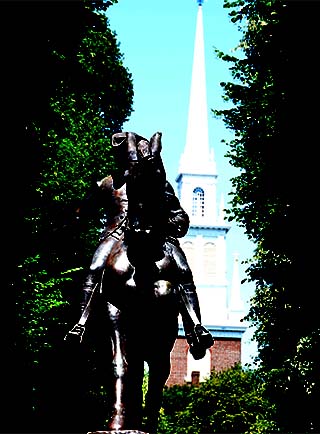 A statue of Paul Revere, Boston.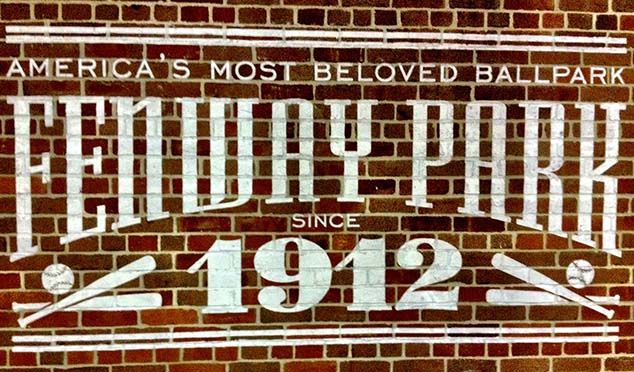 This is a classic sign at Fenway Park, the home ballpark of the Boston Red Sox baseball club since it opened in 1912. Fenway is the oldest Major League Baseball stadium currently in use.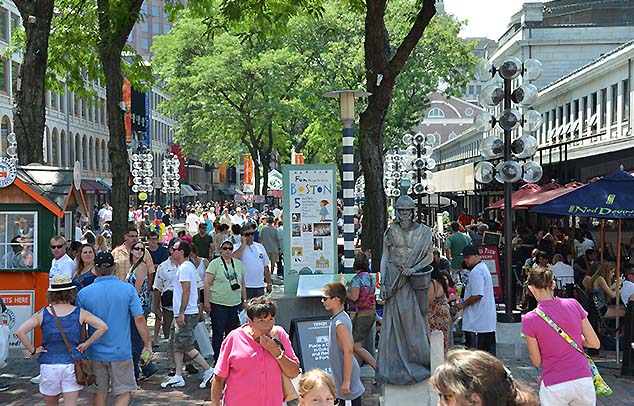 Boston's Quincy Market building continues to be a source of food and entertainment for Bostonians and visitors alike. It is a popular and busy lunchtime spot for downtown workers.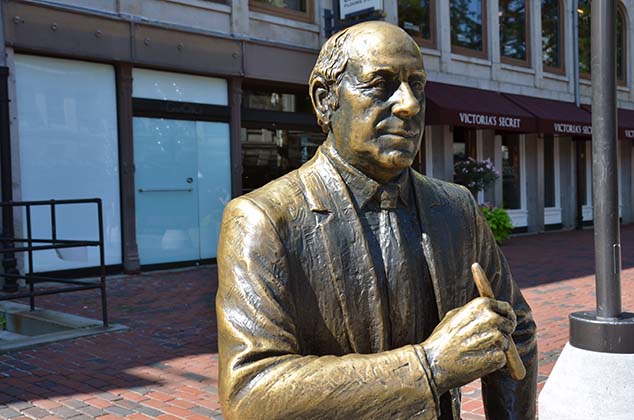 This is a statue of Red Auebach in the Quincy Market area of Boston. Auerbach was an American basketball coach, and as a coach his teams won nine National Basketball Association (NBA) championships. As general manager and team president of the Boston Celtics, he won an additional seven NBA titles, for a grand total of 16 in a span of 29 years, making him one of the most successful team officials in the history of North American professional sports.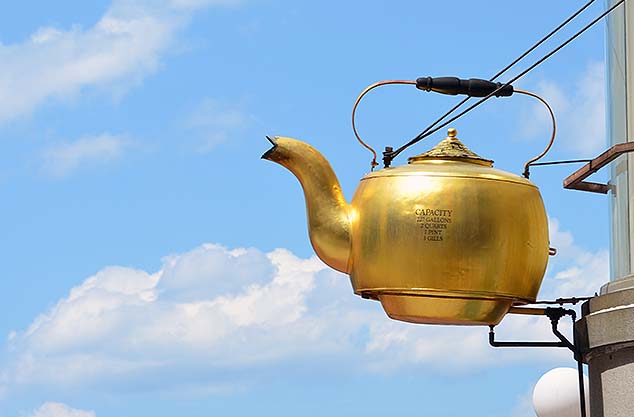 At Court & Tremont Streets (Government Center) in Boston hangs the giant tea kettle "sign" of the old Oriental Tea Company. This huge tea pot was manufactured in 1873 by a company called Hicks & Badger. The sign spent many years on the south side of Scollay Square, and was moved to varying locations in the area as buildings were torn down. The tea pot was a famous tourist attraction for many years.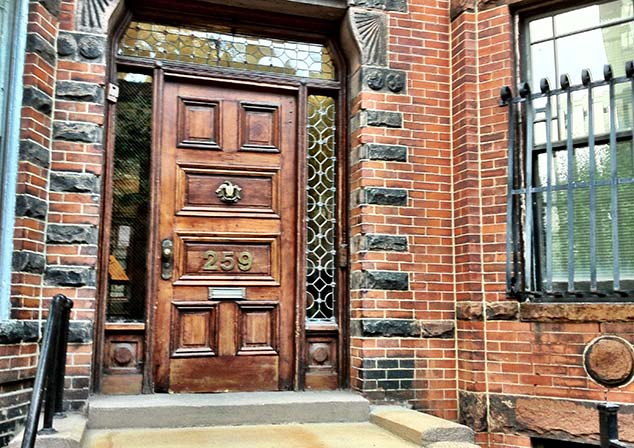 Winston Churchill once called Commonwealth avenue "the most beautiful street in the world". Boston's Back Bay is steeped in history. Its streets are some of many in Boston that are lined with one of the city's most iconic architectural structures, the brownstone; this is one of the doors on that street.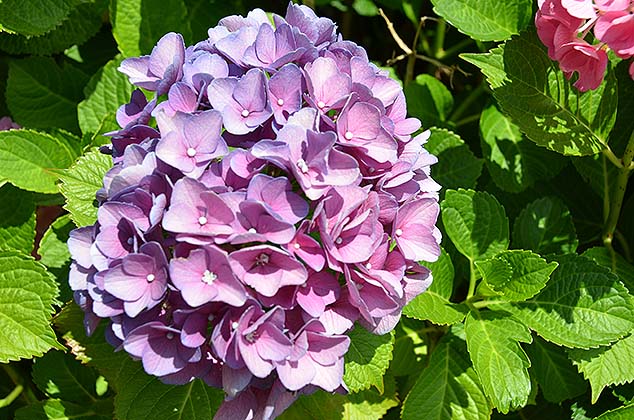 Boston Common is a central public park in Boston, Massachusetts; trees and flowers are everywhere.
About the Author
John Moen is a cartographer who along with his wife are the orignal founders of worldatlas.com. He and his wife, Chris Woolwine-Moen, produced thousands of award-winning maps that are used all over the world and content that aids students, teachers, travelers and parents with their geography and map questions. Today, it's one of the most popular educational sites on the web.