Massachusetts Description
Victory in war was costly for Massachusetts, especially in manpower. In addition, its economy was near collapse as long-established trade with Britain was now over. Regardless, the newly-freed colonists struggled onward; the Massachusetts Constitution was ratified, slavery was outlawed and religious persecutions ended.
Massachusetts joined the Union on February 6, 1788, becoming the sixth state to ratify the new United States Constitution. It ratified that Constitution only on the condition that certain amendments concerning individual rights be added.
In the early 1800's economic growth accelerated once again. Port cities (large and small) boomed as Massachusetts became a national and world leader in tool manufacturing, textiles and productive farming techniques. Railroads, country roads and innovative canals continually drove that momentum to the marketplace.
Irish immigrants arrived in the 1840's, and the workforce population exploded. Boston surged into the spotlight as New England's transportation hub, and as a national leader in university education, finance, law, medicine and publishing.

As a hotbed of abolitionist activities (a political movement that sought to end the practice of slavery) Massachusetts was among the first states to respond to President Lincoln's call for troops during America's Civil War (1861-1865). It also supplied ammunition, guns, shoes and other necessities for the war effort.
At the turn of the 20th century, Boston was America's second most important port and the state had a strong industrial economy. Then the Great Depression of the 1930's reared its ugly head, proving financially disastrous across Massachusetts, and all of America. Its two main industries (shoes and textiles) all but collapsed as many manufacturers, attracted by lower labor costs, built new mills in the south.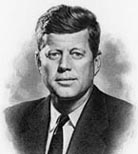 World War II literally revived the state's economy as it was transformed from a manufacturing hub into a high-tech and service industry center. In 1960, John F Kennedy, the junior senator from Massachusetts was elected the country's 35th President, and the state was once again in the international spotlight.
In summary, Massachusetts is both an idyllic and majestic slice of land, and a major contributor to the culture and economic history of the world. The first American college, library, newspaper, printing press and public park were established here, and it's the home state of four American Presidents.
From the fishing village of Gloucester to the tip of Cape Cod, and from the seaport culture of Boston - across the state to its western border, the Commonwealth of Massachusetts is the cornerstone of America.
"I shall enter on no encomium upon Massachusetts; she needs none. There she is. Behold her, and judge for yourselves. There is her history; the world knows it by heart. The past, at least, is secure. There is Boston and Concord and Lexington and Bunker Hill; and there they will remain forever."
Daniel Webster, 1830
Massachusetts Cities, Counties & Area Codes
This page was last updated on April 7, 2017.