Newfoundland and Labrador
Newfoundland and Labrador Description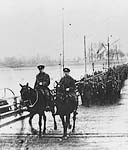 World War I had a powerful and devastating effect on Newfoundland and Labrador. Out of 5,482 men who fought overseas, 1,500 were killed and over 2,300 wounded.
During World War II, numerous bases were built by Canada and the US to safeguard Atlantic convoys to Europe.
Newfoundland and Labrador became the 10th and last province of Canada by a very slim margin of votes in 1949.
Newfoundland and Labrador Today
The province, when it joined the Canadian Confederation was referred to as Newfoundland. On December 6, 2001, an amendment was made to the Constitution of Canada to change the province's official name to Newfoundland and Labrador.
An ongoing battle between federal government and Newfoundland and Labrador over oil royalties resulted in the Canadian flag being removed from all provincial buildings in late 2004. In early 2005, the flags were flown again after the federal government signed an agreement granting all oil revenues to the province.
Newfoundland and Labrador is spread over a huge landmass, divided into two geographical parts, separated by the Strait of Belle Isle.
Its location in the northeastern corner of North Americais closer to Europe than any other part of the continent. Labrador is the easternmost part of the Canadian Shield.
Over half the population lives in fishing villages along the coast, with the remaining people living in cities and towns.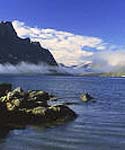 The economy is heavily reliant on its natural resources, primarily mining, oil production, fishing and logging.
Visitors to Newfoundland and Labrador generally describe the experience as "unique". Its unusual geography, untamed wilderness, fjords, whale watching, quaint villages and rugged coastline are just a few of the reasons travelers say "prepare to be lost and found" in Newfoundland and Labrador.
CITY ATTRACTIONS & MAPS:
Provinces & Territories Of Canada
This page was last updated on July 12, 2016.