People listed are almost always native to the country. We do (on occasion) include those that have either lived within the country for most of their adult life, or have made a significant contribution to the country in their personal endeavors.

Q - R
Ricardo Alarcon de Quesada politician
Ioamnet Quintero olympic medalist, high jumper
Ana Fidelia Quirot olympic medalist, runner
Alexei Ramirez baseball player
Pedro Ramos baseball player
Ultiminio "Sugar" Ramos boxer
Daniel Rene singer, songwriter, producer
Roberto Fernandez Retamar poet, essayist, literary critic
Angel Reyes violinist
Jose Ignacio Rivero author, journalist
Raul Rivero journalist
Dayron Robles olympic medalist, hurdler
Arsenio Rodriguez musician, creator of mambo, composer
Jose Rodriguez baseball player
Luis Manuel Rodriguez boxer
Silvio Rodriguez singer, songwriter
Armando Rodriguez-Gonzalez composer, musician
Gonzalo Roig composer, musician, music director
Ibrahim Rojas olympic medalist, sprint canoer
Octavio "Cookie" Rojas baseball player
Amadeo Roldan composer, violinist
Virgilio Paz Romero anti-Castro exile
Antonio Maria Romeu composer, pianist, bandleader
Felipe Perez Roque politician
Meyer Rosenbaum chief rabbi, spiritual leader in Havana
Gonzalo Rubalcaba pianist, composer
Jorge Enrique Rubio boxing trainer
Rey Ruiz singer
S
Jose Vilalta Saavedra sculptor
Jorge Sanchez Salgado volleyball player
Alex Sanchez baseball player
Celia Sanchez founder 26th of July Movement
Jorge Luis Sanchez film director
Mario Ernesto Sanchez actor
Ricardo "Rick" Sanchez journalist, author
Tomas Sanchez artist
Arturo Sandoval trumpeter, pianist
Ramon Gray San Martin former president
Abel Santamaria revolutionary leader
Mongo Santamaria musician
Nico Saquito composer, singer
Cristina Saralegui journalist actress, talk show host
Severo Sarduy poet, playwright
Rudy Sarzo musician
Yargelis Savigne triple, long jumper
Felix Savon olympic medalist, boxer
Moraima Secada singer
Diego Segui baseball player
Compay Segundo musician, singer, composer
Juan Jose Sicre sculptor
Moises Simons composer , pianist, orchestra director
Leonel "Bebito" Smith olympic medalist, swimmer
Carlos Prio Socarras former president
Hector Socorro footballer
Javier Sotomayor olympic medalist, track and field
Teofilo Stevenson olympic medalist, boxer
T - Z
Orlando Zapata Tamayo political activist
Jose Tartabull baseball player
Tony Taylor baseball player
Maria Teresa grand duchess of Luxembourg
Luis Tiant baseball player
Miguel A. De La Torre educator, author
Cristobal Torriente baseball player
Rene Touzet composer, bandleader, pianist
Juan Tunas footballer
Aliecer Urrutia triple jumper
Ignacio Jose Urrutia historian
Chucho Valdes pianist, bandleader, composer
Victor Manuel Garcia Valdes artist
Zoe Valdes author
Moises Valle musician
Carlos Varela singer, songwriter
Will Vazquez film director
Maria Teresa Vera composer, guitarist, singer
Mayra Veronica singer
Zoilo Versalles baseball player
Emilio Mola Vidal commander spanish civil war
Nitza Villapol chef, cookbook author, television host
Pedro Zamora AIDS activist, television host
Mauricio Zeilic television host, reporter
Hector Zumbado author journalist, humorist, critic
Is a famous person missing from this page?
Submit your Famous Cuban
Cuba's Information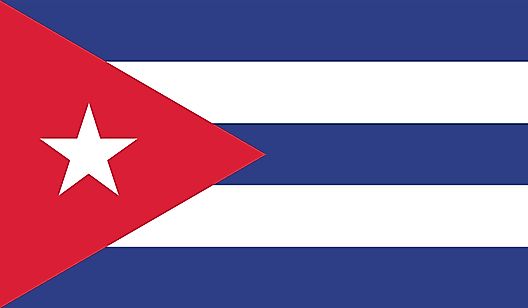 | | |
| --- | --- |
| Land Area | 109,820 km2 |
| Water Area | 1,040 km2 |
| Total Area | 110,860km2 (#104) |
| Population | 11,179,995 (#78) |
| Population Density | 101.80/km2 |
| Government Type | Communist State |
| GDP (PPP) | $133.00 Billion |
| GDP Per Capita | $11,900 |
| Currency | Peso (CUP) |
| More Information | Cuba |
Countries & Territories Of The Caribbean