St. Martin Sint Maarten Photos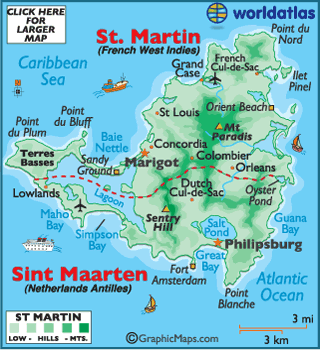 St. Martin/Sint Maarten
Divided between two countries for over 350 years now, St. Martin/Sint Maarten is harmoniously shared by the French and the Dutch.
The border between north and south is all but invisible, and in most ways, St. Martin/Sint Maarten is simply a strikingly beautiful neighborhood with two different cultures.
The French side (St. Martin) is certainly more relaxed and sophisticated, and the first-class resorts and beach are more secluded. Marigot is Mediterranean resort-like, with yachts in the harbor, open-air markets and shops lining the waterfront.
The Dutch side (Sint Maarten) is a lively destination of white sand beaches, casinos, historical sights, shopping venues and lots of nightlife. Philisburg, a duty-free port, is the main entry point, and it vibrates with the colors and sounds of the Caribbean and cruise ship passengers from around the world.
Although the island is half-French and half-Dutch. English is without doubt the dominate language.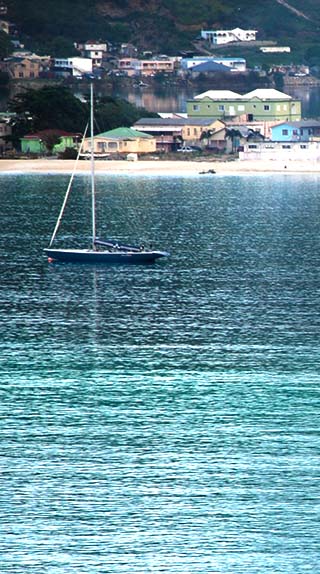 A slice of Great Bay, Sint Maarten.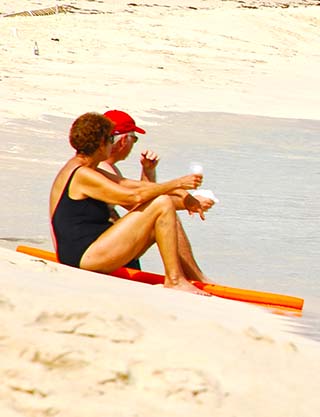 Enjoying the sun on Orient Beach, St. Martin.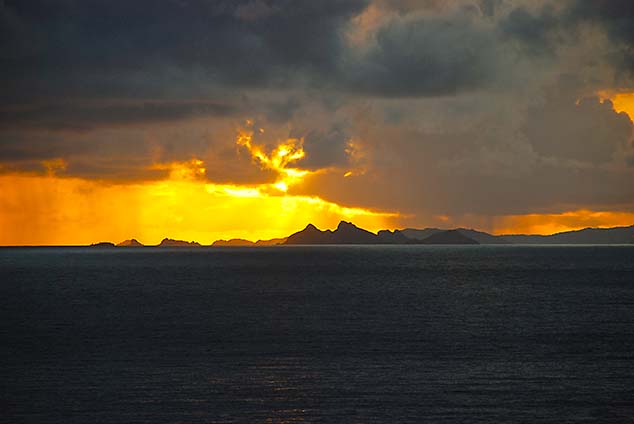 From Sint Maarten, this is an early morning view of the nearby island of St. Barts.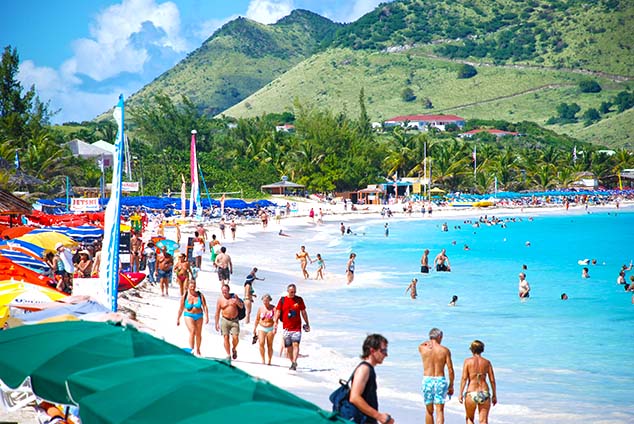 Orient Beach on the edges of Orient Bay in St. Martin is one of the finest beaches in the world, with white sand and crystal clear blue waters. With an average temperature of 85 degrees year round, this beach is a wonderful place to swim, and to participate in various water sports. Behind me (the photographer) and not in view is the nude part of the beach, and I do mean totally nude. Any yes, it's a very busy beach.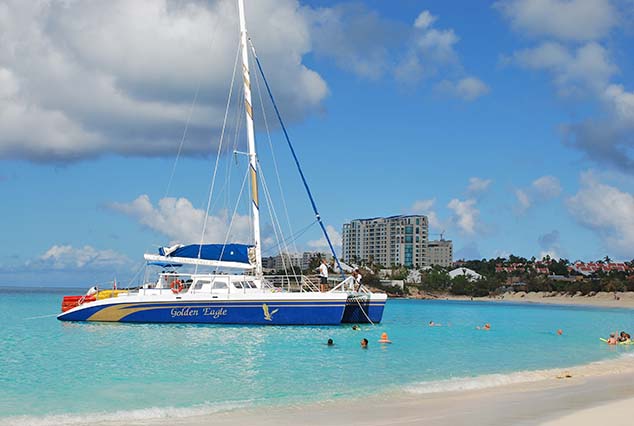 Sailing in St Martin/Sint Maarten is very enjoyable as many of the bays and coves are easily managed by most.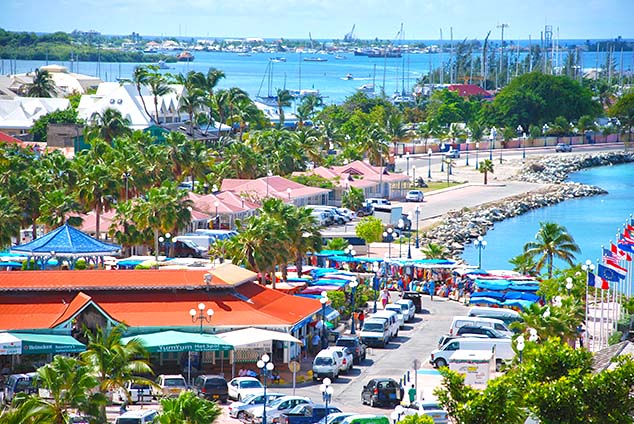 Originally a fishing village on a swamp for which it was named, Marigot is the main town and capital on the French side of the island. It has many gingerbread houses, sidewalk bistros and plenty of boats (sail or power) for rent.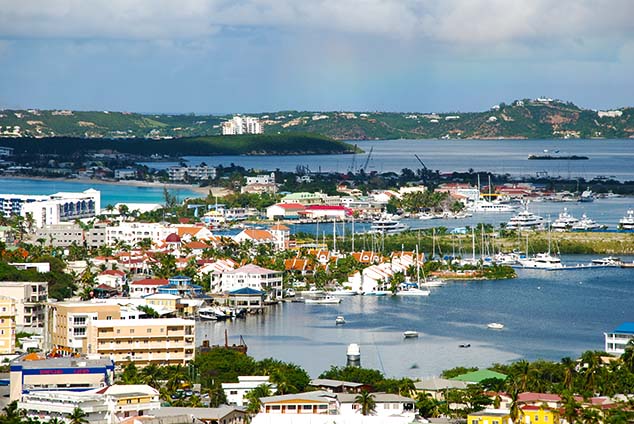 Simpson Bay beach on Sint Maarten (center left) is over a mile long and rather wide, and the waters of the Caribbean Sea are quiet and calm there for most of the year. The bay faces South and protected from the sometimes strong Northeastern winds. It offers a contrast to the busy mains street of Simpson Bay (center) with its bars and restaurants.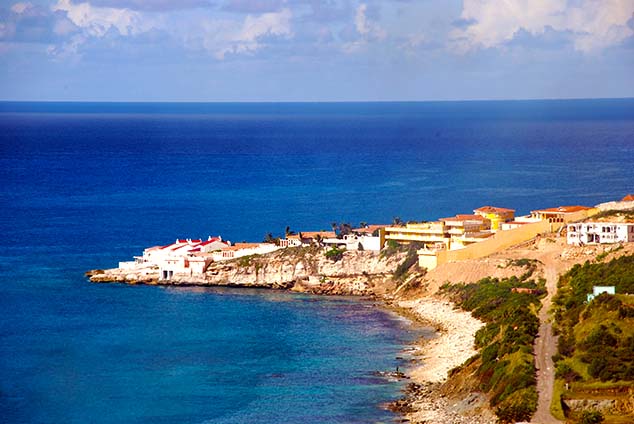 A peninsula near Simpson Bay extending into the warm waters of the Caribbean Sea; a rather nice view.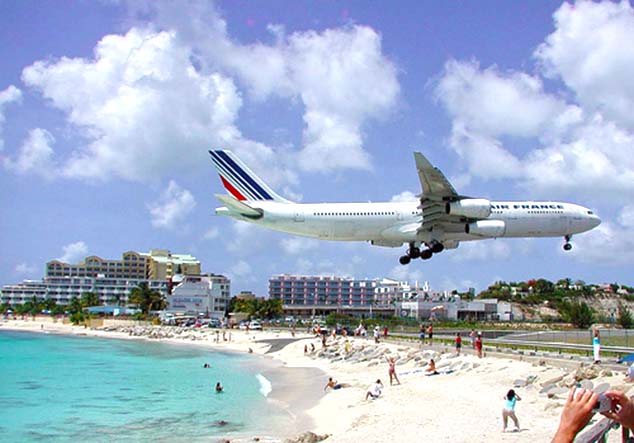 The end of the runway of Princess Juliana International Airport in Sint Maarten extends to the edge of the beach, so that stretch of sand has gained notoriety for its nearness to the airport and is, it seems, consistently flooded with tourists who want to catch a close-up glimpse of a plane and take a photo. Note to self: It's REALLY loud.