People listed are almost always native to the country. We do (on occasion) include those that have either lived within the country for most of their adult life, or have made a significant contribution to the country in their personal endeavors.
L
Carlos Reynaldo Lacayo businessman
Emilio Alvarez Lejarza writer
Herty Lewites politician
Israel Lewites Sandinista leader
Danilo Lopez poet
Diana Lopez Olympic medalist
Mark Lopez Olympic medalist
Steven Lopez Olympic medalist
M
Oswaldo Mairena baseball player
Pablo Antonio Vega Mantilla Bishop Emeritus
Shawn Hasani Martin soccer player
Dennis Martinez first Nicaraguan major league baseball player
Francisco Mayorga author
Ricardo Mayorga boxer
Salomon Ibarra Mayorga poet, lyricist of Nicaragua national anthem
Alberto Cuadra Mejia poet, writer, critic
Lester Melendez soccer player
Tony Melendez guitar player
Maria Romero Meneses nun
Vidaluz Meneses poet
Lillian Molieri (aka Lupe Mayorga) actress
Emilio Alvarez Montalvan politician, author
Eduardo Montealegre politician, businessman
Luis Montealegre artist, sculptor
Reinaldo Aguado Montealegre president International Society for Human Rights in Nicaragua
Tania Montenegro poet, journalist
Armando Morales artist
Beltran Morales poet, essayist, critic, narrator
Karla Moreno weightlifter
Rosario Murillo poet
N - P
Michele Najlis poet
David Obregon boxer
Oldman former king Miskito nation
Daniel Ortega president, leader FSLN
Vicente Padilla baseball player
Azarias H. Pallais poet
Emilio Palacios soccer player
Juan Palacios boxer
Maria Lourdes Pallais narrator, journalist
Raphael Pallais author
Hugo Palma-Ibarra artist
Joaquin Pasos poet
Eden Pastora politician
Horacio Pena author, poet
Luis Alberto Perez boxer
Rigoberto Lopez Perez poet, author
Claudia Poll swimmer
Silvia Poll swimmer
Anastasio Somoza Portocarrero former commander national guard
R
Sergio Ramirez vice-president Nicaragua, author
Mari Ramos television host
Adonis Rivas boxer
Carlos Martinez Rivas poet
Alfonso Robelo businessman, politician, diplomat
Thelma Rodriguez Miss Nicaragua 2008
S
Juan Bautista Sacasa former president
Jorge Salazar coffee grower, leader UPANIC
Aristides Sanchez key figure of Contras
Ernesto Mejia Sanchez poet
Maria Teresa Sanchez poet
Wilber Sanchez soccer player
Augusto Cesar Sandino revolutionary
Roberto Sanson architect
Julito Sequeira artist, poet, writer
Eunice Shade author
Arlen Siu martyr of Sandinista revolution
Juan Sobalvarro poet
Hilda Solis US congresswoman
T
Guillermo Rothschuh Tablada poet
Dora Maria Tellez historian
Milagros Teran author, poet, essayist
Flavio Cesar Tijerino poet, author
Torombolo singer
Eve Torres wrestler, dancer, actress
Gabriel Traversari actor, director, singer, songwriter
Clodomiro Picado Twight scientist
U - Z
Jose Coronel Urtecho poet, translator, essayist, critic, narrator, playwright, historian
Donald Vega musician, composer
Albert Williams major league baseball player
Samuel Wilson soccer player
Daisy Zamora poet
Jose Santos Zelaya former president
Hernaldo Zuniga singer, composer
Nicaragua's Information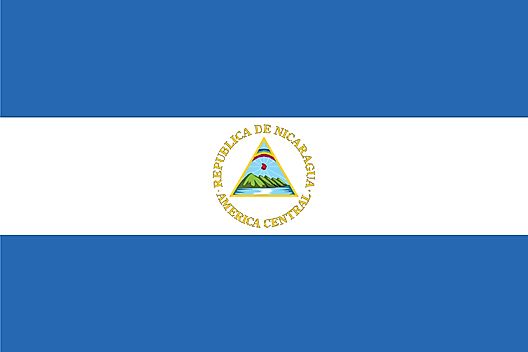 | | |
| --- | --- |
| Land Area | 119,990 km2 |
| Water Area | 10,380 km2 |
| Total Area | 130,370km2 (#96) |
| Population | 5,966,798 (#110) |
| Population Density | 49.73/km2 |
| Government Type | Presidential Republic |
| GDP (PPP) | $33.55 Billion |
| GDP Per Capita | $5,300 |
| Currency | Cordoba (NIO) |
| More Information | Nicaragua |
Countries Of Central America
This page was last updated on April 7, 2017.