Lake Winnipeg:
Lake Winnipeg is located in southern Manitoba near the city of Winnipeg. It's 428 km (266 mi) long and has an area of 24,390 sq km (9,417 sq mi). This very shallow lake is fed by dozens of rivers, including the Red, Saskatchewan, and Winnipeg. It's drained by the Nelson River which flows northeast to Hudson Bay.
The Rockies:
The Rocky Mountains, about 3,000 miles in length, extend from the U.S. State of New Mexico up through the western United States and on into the northernmost reaches of Canada's British Columbia. Across Canada and the U.S., the Rockies include over one hundred individual mountain ranges.
The highest point in the Rockies is Mt. Elbert, located 10 miles southwest of Leadville, Colorado. It stands at 14,433 ft (4,399 meters).
Rivers:
Major rivers of North America
Columbia River:
The Columbia River, (1,152 miles) (1,857 km) in length, is a wide, fast-flowing river rising in the Canadian Rockies of southeast British Columbia. It flows rapidly south through the State of Washington, then forming the natural border between Washington and Oregon.
Fraser River:
The Fraser River of British Columbia rises in the Canadian Rockies near Yellowhead Pass, then flows in a variety of directions (generally south), finally turning west to empty into the Strait of Georgia, just south of Vancouver. It's (850 miles) (1,368 km) in length.
MacKenzie River:
The MacKenzie River is the longest river in Canada and dissects the Northwest Territories. It flows generally northwest into Mackenzie Bay and the Beaufort Sea. This historic river was discovered by Sir Alexander MacKenzie, and along its path are thick, green forests and dozens of major lakes. It's (1,200 miles) (1,800 km) in length.
St. Lawrence River:
The St. Lawrence River, 744 mi (1,197 km) in length, flows southwest to northeast. It drains the Great Lakes and connects the Great Lakes with the Atlantic Ocean.
Yukon River:
The Yukon River rises in the southwestern edge of the Yukon Territory, flowing northwest across the border into Alaska. This massive river continues southwest across central Alaska, ending at the Bering Sea. Even at a length of (1,265 miles) (2.035 km), most of it is navigable, however, it remains frozen from October through mid-June.
Canada's Information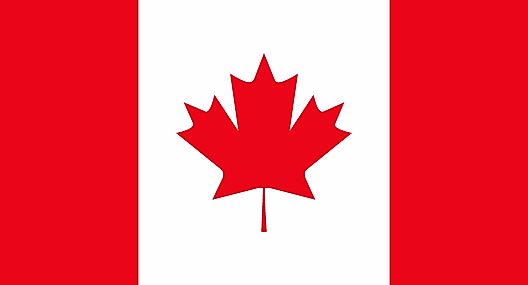 | | |
| --- | --- |
| Land Area | 9,093,507 km2 |
| Water Area | 891,163 km2 |
| Total Area | 9,984,670km2 (#2) |
| Population | 35,362,905 (#38) |
| Population Density | 3.89/km2 |
| Government Type | Federal Parliamentary Democracy (Parliament Of Canada) Under A Constitutional Monarchy; A Commonwealth Realm |
| GDP (PPP) | $1,670.00 Billion |
| GDP Per Capita | $46,200 |
| Currency | Dollar (CAD) |
| More Information | Canada |
Canada provinces, territories & their capitals
Provinces & Territories Of Canada
This page was last updated on April 7, 2017.