In 1666, a detailed census of New France indicated a small population of just over 3,000. In contrast, the English were still controlling parts of Canada's Maritime Provinces, as well as their heavily-populated colonies on the Atlantic seaboard, colonies that would later form the heart of a new nation called America. Also, England's Hudson Bay Company, founded in 1670, would later become North America's most significant fur trader.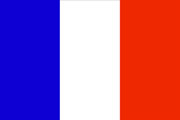 Conflict between these two nations was inevitable, and in the late 17th century the French (New France) began to fight the British (New England) for control of this valuable real estate. The French utilized their local Indians friends as allies, and those experienced warriors attacked numerous English settlements in the Colonies; countless houses were burned and many settlers were kidnapped or killed.
In 1713, the Treaty of Utrecht restored a certain level of peace between France and the forces of England. However, as part of that agreement, France was forced to cede Newfoundland, Hudson Bay, and Nova Scotia to England.
Regardless, the French continued to build forts across their massive territory for protection from Indians, and from the expanding influence of Britain in the Americas. By the middle of the 18th century, over 70,000 people inhabited New France, but Britain's colonies along the Atlantic Ocean coastline now exceeded one million.
During the Seven Years' War (1756–1763), a war involving all of the major European powers of the day, France was the biggest loser. Its position as a major colonial power in the Americas ended, as it lost much of its long-held possessions on the North America continent to the British.
That war verdict aside, eastern Canada was still culturally and politically French, and in the on-going effort to administer and control their new French-speaking territory, the British faced many problems, especially from Indians.
In one daring and unexpected move, rebels from within Britain's original colonies developed a plan to invade and capture all the Canada colony; Montreal was quickly taken, but the fort at Quebec held firm in an inspirational battle that changed the future of Canada forever.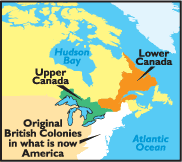 After the American Revolutionary War ended in 1783, a large group of loyalists to the British Crown (Tories) immigrated to Canada from the American colonies.
In 1791, with this large English-speaking aggregation now living in French-speaking Canada, the British Parliament made its move. In a Constitutional Act, it split the Province of Quebec into Upper and Lower Canada; each to have its own representative government and its own individual lanquage.
Throughout the 18th century, the Hudson Bay Company gave traders the opportunity to explore uncharted lands in northern and western Canada. One of those fur traders, Samuel Hearne, discovered Great Slave Lake and became the first non-Indian to reach the Arctic Ocean over land.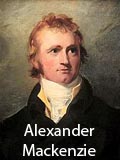 In 1783, a prominent group of Montreal merchants began the North West Fur Trading Company, in direct competition with England's Hudson Bay Company. Alexander Mackenzie, one of their traders, and a Scottish-Canadian explorer, followed his now namesake river from its source to the Arctic Ocean,
He later crossed the Rocky Mountains, finding a route to the Pacific Ocean. He was knighted for his efforts in 1802.
Canada's Information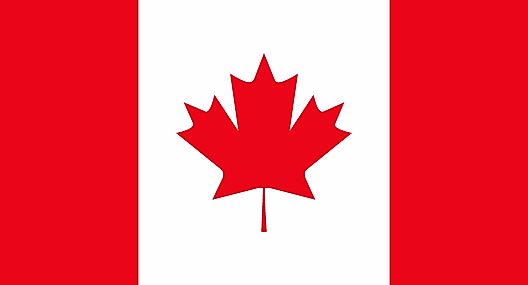 | | |
| --- | --- |
| Land Area | 9,093,507 km2 |
| Water Area | 891,163 km2 |
| Total Area | 9,984,670km2 (#2) |
| Population | 35,362,905 (#38) |
| Population Density | 3.89/km2 |
| Government Type | Federal Parliamentary Democracy (Parliament Of Canada) Under A Constitutional Monarchy; A Commonwealth Realm |
| GDP (PPP) | $1,670.00 Billion |
| GDP Per Capita | $46,200 |
| Currency | Dollar (CAD) |
| More Information | Canada |
Canada provinces, territories & their capitals
Provinces & Territories Of Canada
This page was last updated on July 12, 2016.