People listed are almost always native to the country. We do (on occasion) include those that have either lived within the country for most of their adult life, or have made a significant contribution to the country in their personal endeavors.
L continued
Gustaf de Laval inventor, engineer
Nicklas Lidstrom hockey player
Bruno Liljefors artist
Jenny Lind "swedish nightingale" opera singer
Christian Lindberg trombonist
Viveca Lindfors actress
Astrid Lindgren creator "pippi longstockings"
Mattias Lindstrom-Caliste musician
Carolus Linnaeus botanist, explorer
Oscar A. C. Lund actor, screenwriter, director
Dolph Lundgren actor
Gerda Lundequist actress
M - N
Yngwie Malmsteen musician, composer, bandleader
Carl Malmsten artist, designer
Henning Mankell author
Sven Markelius architect
Max Martin songwriter, music producer
Harry Martinson author, poet, nobel laureate
Bruno Mathsson artist, designer
Carl Milles sculptor
Vilhelm Moberg author
Lucas Moodysson film director
Birgit Nilsson singer
Christina Nilsson opera singer
Alfred Nobel inventor of dynamite, later established the nobel peace prize
O - P
Warner Oland actor
Lina Olin actress
Olof of Sweden king
Ann-Margret Olsson actress, singer
Oscar I king
Olof Palme swedish prime minister
Elena Paparizou singer
Jesper Parnevik golfer
Gustav Erik Pasch inventor safety match
Erling Persson founder h & m (hennes & mauritz)
Wilhelm Peterson-Berger composer
Lewi Pethrus founder swedish pentecostal movement
Olaus Petri writer, reformer
Play music group
R
Robyn singer, songwriter
Johan Helmich Roman composer, widely revered as the "father" of swedish music
Alexander Roslin artist
Roxette music group
S
Sahara Hotnights music group
Johan Tobias Sergel sculptor
Alexander Skarsgard actor
Stellan Skarsgard actor
Hjalmar Soderberg author, playwright
Nathan Soderblom archbishop, nobel peace prize laureate
Elisabeth Anna Soderstrom soprano
Harald V. Sonesson author, artist
Annika Sorenstam wpga golfer
St. Bridgid of Sweden founder Bridgettine order, patron saint of Europe
Wilhelm Stenhammar composer, conductor, pianist
Ingemar Stenmark skier, olympic medalist
Peter Stormare actor
August Strindberg playwright
Mats Sundin hockey player
Svet Svanholm singer
Bo Svenson actor
Emanuel Swedenborg philosopher, scientist
T - Z
Marie Taglioni ballerina
Gustaf Tenggren illustrator
Nicodemus Tessin (The Elder) architect
The Hives music group
The (International) Noise Conspiracy music group
Ingrid Thulin actress
Jonas Tilly founder Tilly Medical Products
Nils von Dardel artist
Verner von Heidenstam poet, nobel prize laureate
Anne Sofie von Otter opera singer
Max von Sydow actor
Thomas Wassberg olympic skiing medalist
Axel Wenner-Gren founder electrolux
Mats Wilander tennis player
Niklas Zennstrom co-founder skype, entrepreneur
Henrik Zetterberg hockey player
Mai Zetterling film director, actress
Anders Zorn artist, sculptor
Is a famous person missing from this page?
Submit your Famous Swede
Sweden's Information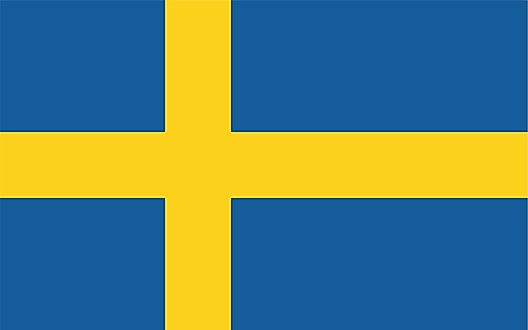 | | |
| --- | --- |
| Land Area | 410,335 km2 |
| Water Area | 39,960 km2 |
| Total Area | 450,295km2 (#55) |
| Population | 9,880,604 (#89) |
| Population Density | 24.08/km2 |
| Government Type | Parliamentary Constitutional Monarchy |
| GDP (PPP) | $498.00 Billion |
| GDP Per Capita | $49,700 |
| Currency | Krona (SEK) |
| More Information | Sweden |
This page was last updated on April 7, 2017.