Slovenia's Information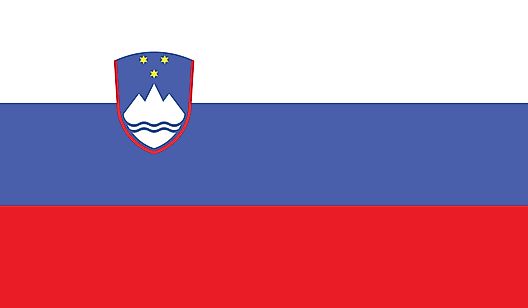 | | |
| --- | --- |
| Land Area | 20,151 km2 |
| Water Area | 122 km2 |
| Total Area | 20,273km2 (#150) |
| Population | 1,978,029 (#147) |
| Population Density | 98.16/km2 |
| Government Type | Parliamentary Republic |
| GDP (PPP) | $68.35 Billion |
| GDP Per Capita | $33,100 |
| Currency | Euro (EUR) |
| Largest Cities | |
People listed are almost always native to the country. We do (on occasion) include those that have either lived within the country for most of their adult life, or have made a significant contribution to the country in their personal endeavors.
P
Borut Pahor prime minister
Bruno Parma chess grandmaster
Tone Pavcek poet
Agoston Pavel poet, ethnologist, linguist, historian
Tomaz Pengov singer, songwriter
Oto Pestner composer, musician, singer
Robert Pesut "Magnifico" singer
Franci Petek geographer
Primoz Peterka ski jumper, Olympic medalist
Lojze Peterle politician
Anton Peterlin physicist
Veno Pilon painter, graphic artist, photographer
Jose Plecnik architect
Josip Plemelj mathematician
Zmago Jelincic Plemeniti politician, author
Zoran Predin singer, songwriter
Fritz Pregl chemist, physician, nobel laureate
France Preseren poet
Igor Pretnar film director
Janko Prunk historian
Johann Puch inventor, mechanic
Benka Pulko Guinness world record holder, author, motivational speaker
R
Miha Remec author
Tanja Ribic singer, actress
Janez Hocevar Rifle actor
Ita Rina actress
Jure Robic marathon cyclist
Anton Rop politician, former prime minister
Leon Rupnik military general
Simon Rutar historian, geographer
S
Jacob Savinsek sculptor, illustrator, poet
Majda Sepe singer
Ljubo Sirc economist
Franci Slak film, producer, screenwriter
Anton Martin Slomsek bishop, author, poet
Danijel Sraka film director, producer
Janez Stanovnik politician, economist
Matej Sternen painter
France Stiglic film director, screenwriter
Martin Strel Guinness world record holder, swimmer
Janez Strnad physicist
Leon Stukelj gymnast, Olympic medalist
Vladimir Subic architect
Zlatko Sugman actor
S - T
Mateja Svet alpine skier, Olympic medalist
Jozsef Szakovics priest, author
Giuseppe Tartini composer, violinist
Ivan Tavcar writer, lawyer, politician
Joze Toporisic linguist
Janez Trdina writer, historian
Ante Trstenjak psychologist, painter, illustrator
Primoz Trubar protestant reformer
Danilo Turk president
U - V
Beno Udrih basketball player
Primoz Ulaga ski jumper, Olympic medalist
Ivo Urbancic philosopher
Johann Weikhard von Valvasor nobleman, scientist
Jurij Vega mathematician, physicist
Milan Vidmar electrical engineer
Anton Vodnik poet, historian, critic
Valentin Vodnik priest, journalist, poet
Anton Vratusa former prime minister, ambassador
Stanko Vraz poet
Ivan Vurnik architect
W - Z
Hugo Wolf composer
Dane Zajc poet, playwright
Egon Zakrajsek mathematician, computer scientist
Slavoj Zizek philosopher, critical theorist
Vitomil Zupan playwright, essayist, screenwriter
Alenka Zupancic philosopher
Oton Zupancic poet, playwright, translator
Denis Zvegelj rower, Olympic medalist
Is a famous person missing from this page?
Submit your Famous Slovene
This page was last updated on April 7, 2017.