Beginning in the mid-1700's, Sweden was an influential power in Europe, and the country reached out to establish colonies in Africa and the Americas. Kings with great armies and the resulting wars came and went, and at the dawn of the 19th century, Sweden did not have enough resources to maintain its territories outside Scandinavia, and most of them were lost.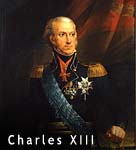 After Denmark-Norway was defeated in the Napoleonic wars, Norway was ceded to the King of Sweden on January 14, 1814, at the Treaty of Kiel.
Norway resisted, and the then Swedish king, Charles XIII, invaded Norway. His forces were successful, and Norway remained under the Swedish crown until 1905.
As the population of Sweden increased so did all related economic and social problems. The country remained poor and Swedes by the tens of thousands immigrated to America. For those that remained, food was in short supply and farming and industrial growth remained slow through the early 20th century.
Though neutral during World War I and II, Sweden was instrumental in many behind-the-scenes humanitarian efforts to help the Jews during World War II. At wars' end, it joined in the effort to rebuild Europe, and its industrial base and economy benefited.
Out of necessity, or motivated by the desire to improve the lifestyle of all of its citizens, Sweden, like other Scandinavian countries developed a strong consumer society and welfare state, and it remained an unwavering force until economic factors in Sweden were severely weakened in the 1970's.
It strongly supports NATO, and joined the European Union (EU) in 1995, but has continually rejected the implementation of the Euro. It does, however, cooperate with other EU countries in defense issues.
Sweden (like most countries) has its share of racial tensions and class-warfare. However, its crime rate remains extremely low, unemployment levels are falling and heath care and higher-education are provided on equal terms to all of its citizens.

Across our planet Swedes have made an incredible impact; from ABBA to ATMs, from Ingrid to Ingmar and from Alfred Nobel's dynamite to Ingvar Kamprad's Ikea stores, Swedish ingenuity is woven into our daily life.
And as for travel to Sweden, the country's main attraction is its landscape, as spectacular sites abound, especially in the mountains of the "Midnight Sun" and along its southwestern coastline. However, Sweden's pristine and quiet country life, and its genuinely nice and friendly people are a very close second.
This page was last updated on April 7, 2017.