Lisbon Photos - Portugal Map, Europe Maps Portugal Map Information
Lisbon, Portugal
Lisbon is the capital and largest city of Portugal.
Lisbon was once home to some of the world's greatest explorers, like Vasco da Gama, Magellan and Prince Henry the Navigator, and its influence spread across the planet.
Today Lisbon is recognised as a global city because of its importance in the arts finance, commerce, media, entertainment, international trade, education, and tourism
Lisbon has two sites listed by UNESCO as a World Heritage Site: the Belem Tower and Jeronimos Monastery. The city is also rich in architecture; Romanesque, Gothic, Manueline, Baroque, Modern and Postmodern buildings can be found all over Lisbon.
In Lisbon, downhill, uphill cobbled streets, narrow alleys, yellow trams, unpainted walls, mosaics and the remains of the Arab past are everywhere. It's a very beautiful city.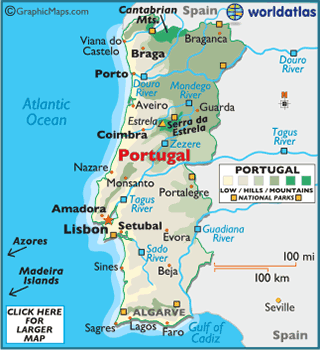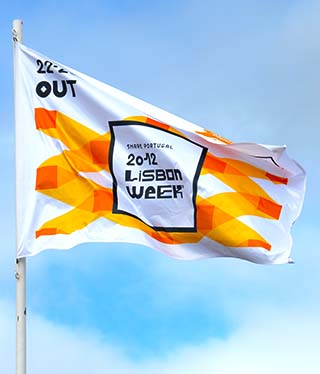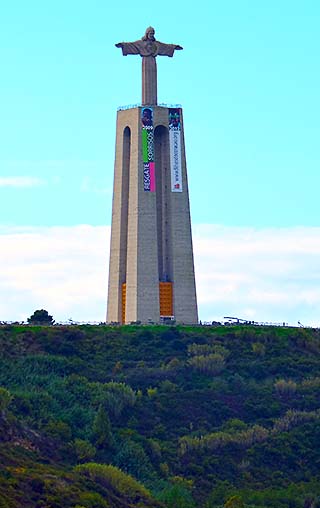 The Christ the King statue is a Catholic monument and shrine dedicated to the Sacred Heart of Jesus Christ overlooking the city of Lisbon. It was inspired by the Christ the Redeemer statue in Rio de Janeiro, Brazil.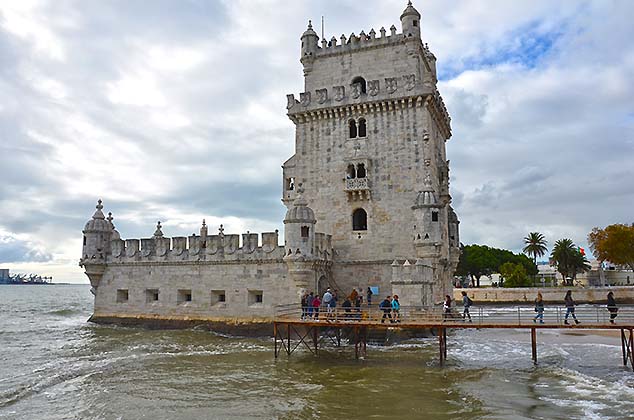 At the mouth of the Tagus river and guarding the entrance to the city of Lisbon is Torre de Belem or Belem Tower. The Tower was built as a fortress between 1515-1521, and is of significant historical importance. It was from here that the caravels (small, highly maneuverable sailing ships) set out on their vovages of discovery to Africa and beyond.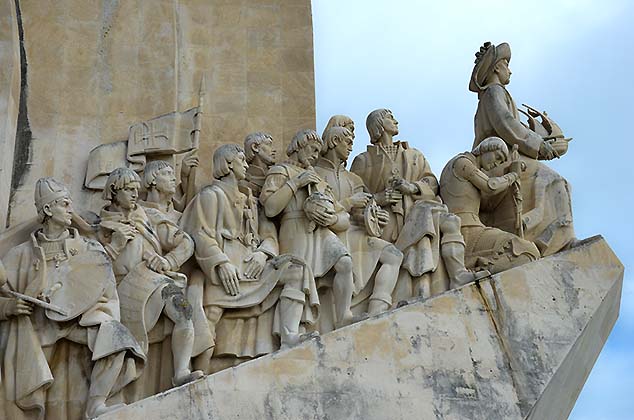 Monument to the Discoveries is a monument on the northern bank of the Tagus River estuary in Lisbon, consisting of a 52-meter-high slab of concrete carved into the shape of the bow of a ship. The monument celebrates the Portuguese Age of Discovery (or Age of Exploration) during the 15th and 16th centuries. Conceived in 1939 by Portuguese architect Jose Angelo Cottinelli Telmo, and sculptor Leopoldo de Almeida for the Portuguese World Fair in June 1940. The figure of Henry the Navigator is upper right. He was an important figure in the early days of the Portuguese Empire and responsible for the early development of European exploration and maritime trade with other continents.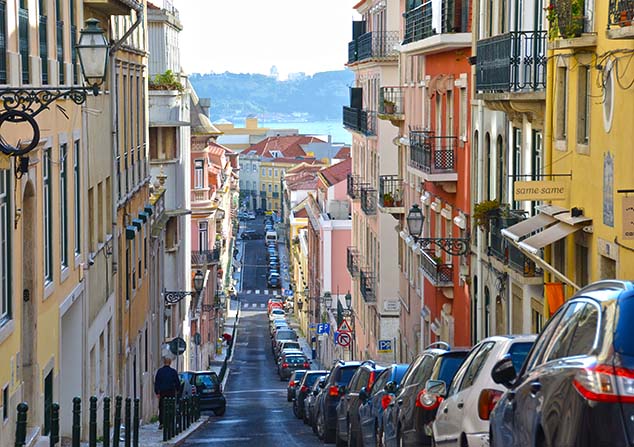 And speaking of hilly streets, Lisbon looks very much like San Francisco, California, as this is a typical street.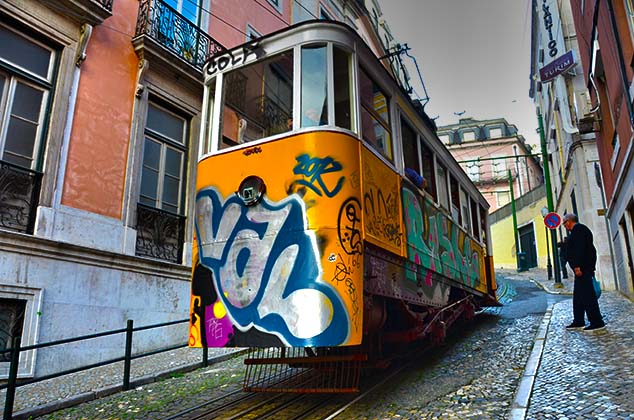 An extensive tramway network serves the municipality of Lisbon. In operation since 1873, it presently comprises five urban lines. Locals ride the trams (or trolley cars) up and down the very hilly streets, and tourists love them.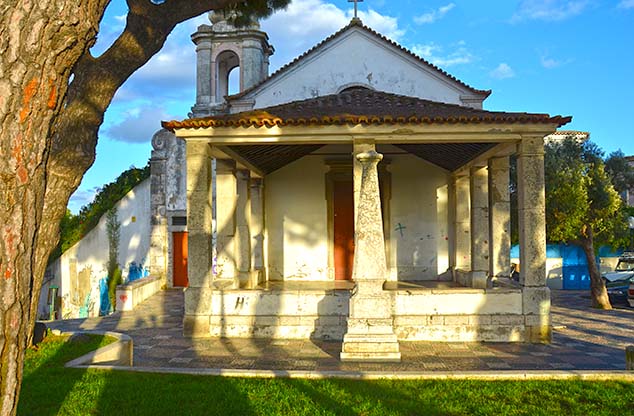 There are so many colorful corners in Lisbon it's hard to decide what to photograph; this small church is but one.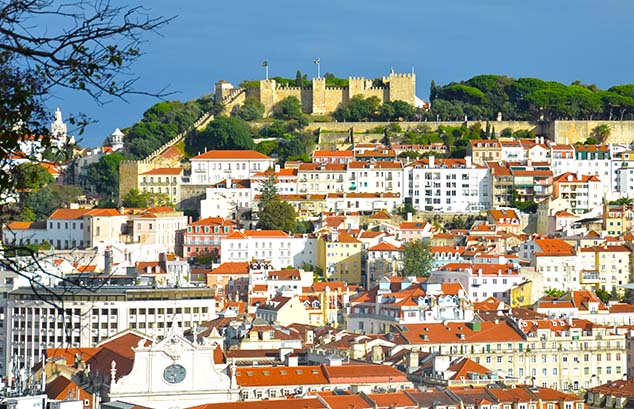 The Castle of Sao Jorge is a Moorish castle occupying a commanding hilltop overlooking the historic center of Lisbon and the Tagus River. The strongly fortified citadel dates from medieval period of Portuguese history, and is one of the main tourist sites in the city.
Lisbon Photos (Page 1)
1 | 2