People listed are almost always native to the country. We do (on occasion) include those that have either lived within the country for most of their adult life, or have made a significant contribution to the country in their personal endeavors.
H - J
Hella Haasse author
Frans Hals artist
Dirk Hartog explorer, sea captain
Rutger Hauer actor
Andre Hazes singer
Johannes Heesters actor, singer
Piet Pieterszoon Hein naval officer, folk hero
Frederick Henry prince of orange
Willem Frederik Hermans author
Pieter Corneliszoon Hooft historian, poet, playwright
Ernesto "Mr. Perfect" Hoost kickboxer
Ilse Huizinga singer
Johan Huizinga author, historian
Christiaan Huygens mathematician, physicist
Constantijn Huygens poet
Janine Jansen violinist
Famke Janssen actress
Jan Janssen cyclist
Willem Janszoon navigator, colonial governor
Johan-Friso prince of orange-nassau
Ruud Jolie musician
Juliana of the Netherlands queen
K - N
Ada Kok olympic gold medalist
Pieter Kok physicist
Willem de Kooning artist
Tjalling Charles Koopmans economist, nobel prize laureate
Jeroen Krabbe actor
Richard Krajicek tennis player
Sylvia Kristel actress
Doutzen Kroes model
Hendrik Lorentz physicist, nobel prize laureate
Joseph Luns politician, secretary general nato
Arie Luyendyk race car driver
Margriet of the Netherlands princess
Jan Marijnissen politician
Rie Mastenbroek olympic gold medalist
Maurice of Nassau prince of orange
Cornelius Jacobsen Mey explorer, fur trader
Harry Mulisch author
Cees Nooteboom author
O - U
Wubbo Ockels astronaut
Willem Oltmans journalist
Jacobus Oud architect
Anton Philips co-founder royal philips electronics
Gerard Philips co-founder royal philips electronics
Willem Pijper composer
Rembrandt artist
Andre Rieu violinist, conductor
Franklin "Frank" Rijkaard football manager
Tjalie Robinson author
Jakob Roggeveen explorer
Rebecca Romijn actress
Gerard Schurmann composer (born in Dutch East Indies)
Katja Schuurman actress
Shocking Blue music group
Eva Simons singer, songwriter
Rik Smits basketball player
Willebrord Snellius astronomer, mathematician
Renee Soutendijk actress
Jaap Spaanderman pianist, cellist, conductor
Baruch Spinoza philosopher
Jan Steen artist
Thomas Joannes Stieltjes mathematician
Anouk Stotijn-Teeuwe singer
Abel Janszoon Tasman seafarer, explorer
Corrie ten Boom holocaust survivor, author
Johanna ter Steege actress
Gerardus 't Hooft physicist, nobel prize laureate
Johan Rudolf Thorbecke politician
Cornelius Petrus Tiele theologian
DJ Tiesto DJ, producer
Nikolaas Tinbergen ethologist, nobel prize laureate
Geertgen tot Sint Jans artist
Jochem Uytdehaage olympic gold medalist
V
Willeke van Ammelrooy actress
Marco van Basten footballer
Armin van Buuren DJ, producer
Monique van de Ven actress
Janwillem van de Wetering author
Pieter van den Hoogenband olympic gold medalist
Henricus Nicolas "Rick" VandenHurk baseball player
Anne van der Bijl (Brother Andrew) missionary, smuggled Bibles to communist countries in cold war
Simon van der Meer physicist, nobel prize laureate
Anneliese van der Pol actress
Edwin van der Sar footballer
Johannes Diderik van der Waals thermodynamicist
Bracha van Doesburgh actress
Yvonne van Gennip olympic gold medalist
Jan van Gilse composer, conductor
Theo van Gogh film director, producer, actor
Vincent van Gogh artist
Jan van Goyen artist
Anky van Grunsven olympic gold medalist
Alex Van Halen musician
Eddie Van Halen musician
Jacob van Heemskerk admiral dutch fleet, explorer
Peter Van Hoven politician
Dominique "Do" van Hulst singer
Bep van Klaveren olympic gold medalist
Andreas Cornelis van Kuijk "colonel" tom parker, elvis presley manager
Ellen van Langen olympic gold medalist
Anton van Leeuwenhoek "father of microbiology"
Han van Meegeren artist, restorer, forger
Ruud van Nistelrooy footballer
Olivier van Noort first dutchman to circle globe
Johan van Oldenbarnevelt statesman
Willem van Otterloo conductor, composer
Frans van Schooten mathematician
Petra van Staveren olympic gold medalist
Jacobus Henricus van 't Hoff chemist, nobel prize laureate
Jaap van Zweden conductor, violinist
Bart Veldkamp olympic gold medalist
Martinus J. G. Veltman physicist, nobel prize laureate
Paul Verhoeven director, producer
Kees Verkerk olympic gold medalist
Johannes Vermeer artist
Matthijs Verschoor classical pianist
Jos Verstappen race car driver
W - Z
Johan Wagenaar composer, organist
Wilhelmina of the Netherlands queen
William of Orange, Prince
William I king of the netherlands
William III king of england, scotland, ireland
Within Temptation band
Marcel Wouda olympic gold medalist
Pieter Zeeman physicist, nobel prize laureate
Margaretha Geertruida Zelle Mata Hari
Frits Zernike physicist, inventor, nobel prize laureate
Joop Zoetemelk olympic gold medalist
Is a famous person missing from this page?
Submit your Famous Dutchman
Netherlands's Information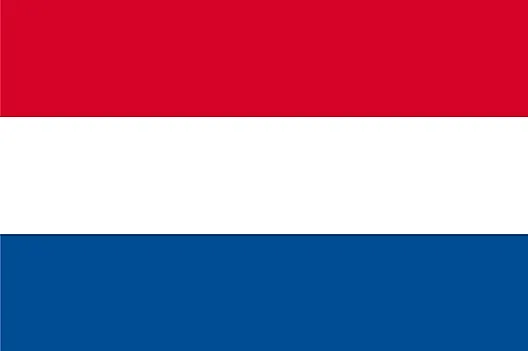 | | |
| --- | --- |
| Land Area | 33,893 km2 |
| Water Area | 7,650 km2 |
| Total Area | 41,543km2 (#131) |
| Population | 17,016,967 (#66) |
| Population Density | 502.08/km2 |
| Government Type | Parliamentary Constitutional Monarchy; Part Of The Kingdom Of The Netherlands |
| GDP (PPP) | $871.00 Billion |
| GDP Per Capita | $50,800 |
| Currency | Euro (EUR) |
| More Information | Netherlands |
This page was last updated on April 7, 2017.