People listed are almost always native to the country. We do (on occasion) include those that have either lived within the country for most of their adult life, or have made a significant contribution to the country in their personal endeavors.
Fotis Kafatos biologist
Leonidas Kalidonis journalist
Manolis Kalomiris composer
Kalopedis family renowned jewelers
Melina Kanakaredes actress
Constantine Kanaris freedom fighter, politician
Konstantinos Karamanlis former president and four time prime minister
Konstantinos Karatheodoris physicist
Elia Kazan film maker
Nikos Kazantzakis author, zorba the greek
Stelios Kazantzidis singer
Sophia Kokosalaki fashion designer
George Korres natural cosmetics creator
John Latsis shipping magnate
Vicky Leandros composer, musician, singer
Leonidas I king of sparta
Spiros Louis first olympic marathon champion
M - O
Philip II of Macedon macedonian king, father of alexander the great
Pavlos Melas freedom fighter, officer hellenic army(born in france)
Melina Mercouri actress, politician
Ioannis Metaxas general, former prime minister
George Michael singer
Miltiades military leader
George Mitchell u.s. entrepreneur, developer
Dimitri Mitropoulos composer
Nana Mouskouri singer
Myron sculptor
Stravos Niachos shipping magnate
Odysseus (Ulysses) hero of epic poem, Odyssey
Aristotle Onassis shipping magnate
P
Panteleimon physician, saint
Andreas Papandreou former prime minister
George Papanicolaou physician, inventor (pap smear)
Irene Papas actress
Evangelos 'Vangelis' Papathanassiou musician
George Pappas film producer
Parmenides philosopher
Alexander Payne film maker
Periander philosopher
Perikles statesman
Phidias sculptor, painter
Pindar poet
Pittacos statesman, military leader, philosopher
Plato philosopher
Plutarch greek historian, biographer, essayist
Praxiteles sculptor
Prince Philip duke of edinburgh
Pyrrhus king of hellenistic kingdom of epirus
Pythagoras mathematician
Pytheas geographer and explorer
R - Z
Artemios "Demis" Roussos singer, musician
(born in Egypt)
Scopas sculptor
Giorgos Seferis poet, diplomat, nobel laureate
Lambros Skordas chairman aris thessaloniki football club
Socrates philosopher
Solon lawmaker, poet
Sophocles playwright, famous for 'oedipus tyrannus'
Chris Spheeris composer
John Stamos actor
Pamphylia Tanailidi actress
Thales philosopher
Mikis Theodorakis composer
Domenicos Theotokopoulos (El Greco) artist
Vassilis Tsitsanis composer
Psathas Vaggelis zourna player
John Varvatos fashion designer
Eleftherious Venizelos former prime minister
Yanni composer, pianist
Theodoros Zagorakis footballer
Is a famous person missing from this page?
Submit your Famous Greek
Greece's Information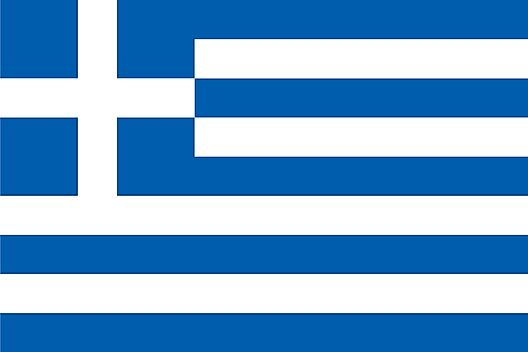 | | |
| --- | --- |
| Land Area | 130,647 km2 |
| Water Area | 1,310 km2 |
| Total Area | 131,957km2 (#95) |
| Population | 10,773,253 (#84) |
| Population Density | 82.46/km2 |
| Government Type | Parliamentary Republic |
| GDP (PPP) | $291.00 Billion |
| GDP Per Capita | $26,800 |
| Currency | Euro (EUR) |
| More Information | Greece |
This page was last updated on April 7, 2017.